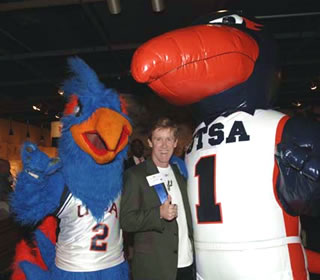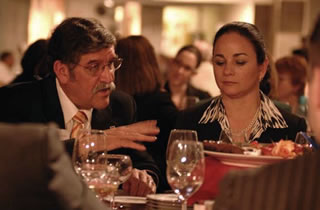 Top photo: Former Spurs Coyote mascot Tim Derk with two Rowdy
Roadrunners. Center photo: UTSA President Ricardo Romo (left)
in conversation. Bottom photo: Dr. Harriett Romo (right) in
table discussion. (Photos by Mark McClendon)
'Great Conversation' raises discussion, scholarships
By Heather Locke Marlow
Assistant Director of Development/Stewardship
(March 2, 2007)--More than $130,000 was raised for UTSA Honors College scholarships at "Great Conversation!" on Feb. 27. More than 500 alumni, friends and community leaders enjoyed good food and stimulating discussion at the event at UTSA's Institute of Texan Cultures.
---
Today's headlines
Article tools
---
"Great Conversation!" is designed to help revive the vanishing art of conversation, and has become one of the most anticipated fundraisers in San Antonio. Organized like a dinner party, each table features a topic and an expert, who helps inspire discussion and thought-provoking conversations.
There were more than 59 subjects including "Border Security and Immigration Issues: What Does the Future Hold?" hosted by Laredo Mayor Raul Salinas; "How to Sell Anything" with community business leader Ernesto Ancira Jr.; and "Running for Success: What Can a Marathon Do for a City?" with San Antonio City Manager Sheryl Sculley, who also is an avid runner.
The Honors College relies on the funds generated by the event to provide critical scholarship support for its students. Established in 2002, the college's current enrollment is 650 students. Because of its rapid growth, the need for additional scholarship support is significant.
Three new endowed scholarships were funded as a result of this year's event, adding to the 12 that already existed thanks to past Great Conversation! events.
Presenting sponsors this year included corporate friends AT&T and H-E-B, and other supporters including Jean and Steven Lee, Bob and Pat Flynn, and Dr. Rus and Karen Norman. Co-hosts for the event were Cristina and Eddie Aldrete, Sherwood and Bebe Canales Inkley, Andi and Rick Rodriguez, Kathy and Lionel Sosa, and UTSA President Ricardo Romo and Dr. Harriett Romo.
See the complete list of sponsors and a post-event survey at the Great Conversation! Web site.
For more information, visit the UTSA Honors College Web site.