Download the Athletics iPhone App
Get the latest news, scores, schedules and rosters for UTSA's 17 sports for FREE on your iPhone, iPad or iPod Touch. The premium version includes live audio, exclusive on-demand video and more. Find out more or download the app.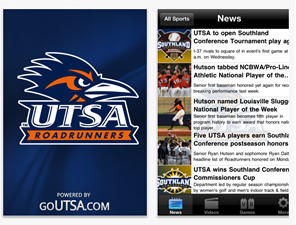 Requirements: Requires iOS 4.0 or later.
Step Up UTSA
The Roadrunner Athletic Fund is supported by alumni, fans, faculty, staff and friends of UTSA. Your donation to the Roadrunner Athletic Fund directly supports our student-athletes and sports programs. UTSA's goal is to develop champions in the classroom and on the field. Your financial commitment makes this possible. Learn more about the Roadrunner Athletic Fund