Featured CAPRI
Jump to:
In the News
Bank of America gives $1 million for child program
A $1 million grant from the Bank of America Charitable Foundation will support early childhood development programs in the Bank of America Child and Adolescent Policy Research Institute (CAPRI), which will be housed at the UTSA Downtown Campus.
"The University of Texas at San Antonio and Bank of America share the common goal of creating opportunities in the lives of the people and communities we serve," said Wilson. "Demand for quality education and educators is on the rise in San Antonito and throughout Texas. We are pleased to be able to support the Child and Adolescent Policy Research Institute because teachers and students reaching their full potential contribute to the vitality of San Antonio, making it a wonderful place to live, work and play. Education and economic experts alike describe such early childhood programs as economic development with a high public return."
Read more

---
BCFS Health and Human Services Hosts Educational Conference for Foster Youth
It was an Independence day to remember for hundreds of at-risk and foster-care teens. On July 7 at the UTSA Downtown Campus, 300 at-risk teens and teens who have either recently aged-out or are preparing to age out of the state foster-care system were treated to a full day of empowerment and knowledge at the Independence Day Career and Education Conference.
---
Look Who's Talking—In Two Languages
Scientists team up to study language acquisition in bilingual babies



Warren was one of 30 children recruited by UTSA sociologists in fall 2005 to participate in an ambitious project studying language acquisition in children growing up in bilingual environments. The project brings together sociologists, neuroscientists and educators from UTSA and the University of Washington's Institute for Learning and Brain Sciences in a multiyear collaboration. The aim of the research is to study the development of the bilingual brain using the methods of both the neuroscientist and the social scientist. 

The scientific article, titled, "Bilingual language learning: An ERP study relating early brain responses to speech, language input, and later word production", was also published with this research. The authors were Adrian Garcia-Sierra, Maritza Rivera-Gaxiola, Cherie R. Percaccio, Barbara T. Conboy, Harriett Romo, Lindsay Klarman, Sophia Ortiz, and Patricia K.Kuhl.


Research on the development of speech processing in bilingual children has typically implemented a cross-sectional design and relied on behavioral measures. The present study is the first to explore brain measures within a longitudinal study of this population. We report results from the first phase of data analysis in a longitudinal study exploring Spanish-English bilingual children and the relationships among (a) early brain measures of phonetic discrimination in both languages, (b) degree of exposure to each language in the home, and (c) children's later bilingual word production abilities.

---
UTSA Conference Challenges At-Risk, Foster-Care Youths to Succeed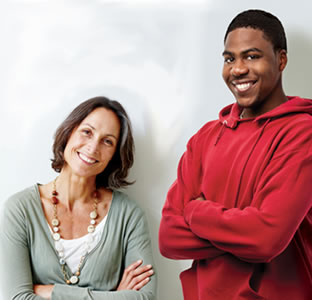 The Bank of America Child and Adolescent Policy Research Institute at The University of Texas at San Antonio will partner with the U.S. Department of Housing and Urban Development and Baptist Children and Family Services (BCFS) Health and Human Services to offer the 13th annual Independence Day Career and Education Conference. 
"As soon as teens age out of the foster-care system, they lose the network of support services they so desperately need to thrive," said Harriett Romo, UTSA professor of sociology and CAPRI director. "This year's conference, themed 'You Are More,' is designed to empower those youth who have aged out of the system or are getting close to aging out. The conference will introduce them to very successful people who also went through the foster-care system, so they realize they too can use their talents to build successful careers and nurture positive relationships."
---
Krizia Ramirez turning personal challenges into inspiration for others
Krizia Ramirez could be a statistic, but instead she is advocating for change. After losing her mom to cancer, 13-year-old Krizia and her seven siblings entered foster care. Now a senior after only two years at UTSA, she is majoring in criminal justice and public administration with big plans to make a difference for young people like her.
Krizia has worked to ensure other foster youth have access to higher education by lobbying the state for change. "Foster care kids move around so much. Every move sets us back six months in school, making it difficult to be college ready. By staying enrolled, I show that I'm not just another number. I show other kids in foster care that, yes, it is hard, but you can do it," she says.
---
Foster Youth in College: UTSA Leads the Way With Mentoring, Housing
Born to a drug-addicted mother and a father who was rarely around, Krizia Ramirez was taken into child protective custody as a two-year-old toddler. Her seven younger siblings took the same path one after another. The four youngest were adopted, while Krizia and two of her brothers embarked on an epic journey through countless care facilities. At age 13, she had lived in more than 50 foster homes across Texas, Illinois and Minnesota.
"One of the biggest challenges of a life like that is education," she said. "For every move, we fall six to eight months behind in school," making an on-schedule high school graduation virtually impossible.
---
UTSA Hosts 15th Annual Independence Day Youth Conference for Foster Youth
"Independence Day" is traditionally synonymous with fireworks, family and parties; however, it takes on a completely different meaning when it comes to children in foster care. This year's theme, "Become A Super Hero," will focus on helping youth realize their potential, regardless of their past, and dare them to fly forward towards a successful future.
---
Presentations
YARH - Pathways National Conference. National Pathways to Adulthood 2014 – A Convening On Youth in Transition. Data Analysis Poster Session. Philadelphia, PA, August, 2014.
American Sociological Association, 109th Annual Meeting – Hard Times, The impact of Economic Inequality on Families and individuals. Children and Youth Section, "Collaboration to Improve the Quality of Early Childhood Education for Low-Income Hispanic Children", (Sophia M. Ortiz and Harriett Romo), San Francisco, CA, August 2014.
Texas Reach Conference, 5th Annual Convening – Education Reach for Texas - Texas Reach Conference. (Sophia M. Ortiz), Austin, Texas, May 30, 2014.
---
Outreach Activities
CAPRI Webpage
A webpage with past and present grant activities and projects that support areas in Infant Cognition, Early Language Development, Community Development and Early Childhood Literacy. The CAPRI Webpage includes cross disciplinary collaborations within the University and with research partners from the community.
On-going webpage (ACCESS Your Future) is still active for all foster youth to provide updated information on college applications, course registration, financial aid, and housing. The ACCESS Center Lab is focused on providing resources for foster youth considering college or job training. The webpage is updated with information from collaborating agencies including BCFS, Project Quest, Angels' Crossing, Casey Family Services, and CASA. The website includes information targeting youths ranging from middle school, high school, and 18 years and older. The site covers topics such as long and short term goals, college vs. job training, money management options, internships and volunteer opportunities, scholarship and financial assistance, resume building, and housing needs.  The updated information allows foster youth to create a "checklist" to help them understand and guide their planning process which includes college fairs, visits to colleges and universities, obtaining proper application forms, and notices of important academic deadlines. Please visit the ACCESS center for more information.
Independence Day Event
July 2, 2014 the UTSA ACCESS Center and BCFS collaborated to host the 15th Annual Independence Day Youth Conference. The conference was held from 8 a.m. to 4 p.m. at the UTSA Downtown Campus. The theme for this year's event was "Become a Super hero". The event was an opportunity for young men and women ageing out of care, to acquire the knowledge, tools, and inspiration to transition o independence and adulthood. Representatives and agencies were invited to the event to support youth aging out of foster care total of 175 foster youth attended the conference.