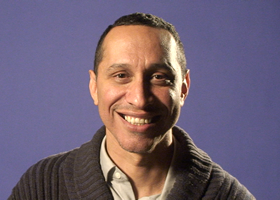 Jesus Kristian Martinez
---
First-generation student Jesus Kristian Martinez fulfills lifelong dream to earn college degree
---
Non-traditional student attributes his academic success to life experience, maturity
Meet Jesus Kristian Martinez. His inspiring story demonstrates it's never too late to pursue your dreams.
Martinez was the ninth of 10 children raised in the Rio Grande Valley by a single mother. After graduating from high school, he began taking college courses. But life took over and circumstances deterred him from completing his baccalaureate studies.
After 16 years of "living in the real world," however, Martinez decided to give college another try. He was inspired by the "We Are UTSA" commercials he saw on television and thought, "Maybe I can do that. Why not? Maybe it's not too late." So at 39, he enrolled as a transfer student at UTSA.
"I've always wanted to be a part of the UT System – always, always," he explained. "As a Texan, I think it's really important to be part of the UT System."
It was a decision he hasn't regretted.
At UTSA, Martinez found a warm community and a sense of belonging – a friendly environment teeming with rich cultures. He also found a great support network among the UTSA faculty.
"The professors here are very, very helpful…they all want to see you succeed," he says.
"They prepare you to just never give up. It's easy to give up, and it's easy to think that you have nobody on your side or backing you up. The professors were always behind you 100 percent."
Today, Martinez dreams of pursuing a master's degree at UTSA in counseling to build a career in social work and therapy—a professional path dedicated to building and strengthening community.
To prepare for his master's program, he's pursuing courses in community health, kinesiology and sociology as a Multidisciplinary Studies major. The customizable degree program allows undergraduates to earn a bachelor's degree while pursuing three focus areas, provided one of the three is liberal arts-based.
Now, Martinez is eyeing graduation, which is just weeks away. He's eager to be a part of the UTSA alumni network one of his classmates joined just a semester earlier.
"The way they treated her when she walked in to pick up her invitations for her guests – with such dignity and respect…she was a Roadrunner. She had already accomplished it. That made me extremely proud. And then they welcomed her to the Alumni [Association], and I just couldn't wait for them to say that to me."
He added, "She had a sense of belonging. She was part of something. And that will never go away."
– Christi Fish