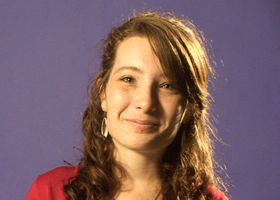 Lorraine Schmitt
---
Lorraine Schmitt overcame an autoimmune disorder to earn her college degree
---
English major hopes to one day teach in a university setting
Meet Lorraine Schmitt. In 2002, she emigrated with her family to the United States from Cordoba, Argentina and planted roots around Smithson Valley.
This month, the family will be celebrating in the Alamodome when she crosses the stage to receive her bachelor's degree in English from the College of Liberal and Fine Arts (COLFA).
Her educational journey was not always a smooth one; it had its share of peaks and valleys.
In fall 2009, Schmitt enrolled and attended Williams College, a private liberal arts college in Williamstown, Mass. After two years in attendance, she found her health declining and discovered she suffered from Crohn's Disease, an autoimmune disorder that effects almost a million people in the United States.
With her world in disarray, she decided to return home and take a year off from school to reassess her priorities and research treatments that would allow her to maintain an active college lifestyle.
Reinvigorated, and with a supportive family by her side, she enrolled at UTSA in fall 2012 to continue her English studies.
The newfound roadrunner excelled in her studies and became involved in campus activities.
She was elected vice president of Sigma Tau Delta, the English honors society and served as assistant manager of Sagebrush Review, the annually published student-run and student-produced literary journal. Additionally, she worked as a SAT instructor through the Princeton Review.
Schmitt has received various scholarships and honors, including the Stephen G. Kellman Creative Non-Fiction Award and a third place award for creative non-fiction at the COLFA research conference.
Last spring, she was proud to be part of a small group of students that met with UTSA President Ricardo Romo to discuss student leadership, campus life and on-campus housing. The feedback was a part of "Project Innovation," which provided ideas and opportunities for improvements correlating with initiatives identified in the UTSA 2016 strategic plan.
"All of the students really felt like they were a part of the university and that their insight and opinions really mattered," said Schmitt. "It was great to see that it was a two-sided conversation."
After graduation, she plans to move to California with her fiancé and pursue a position in teaching, publishing or technical writing. Eventually, Schmitt would like to pursue a graduate degree and become a faculty member at a university.
– Kris Rodriguez