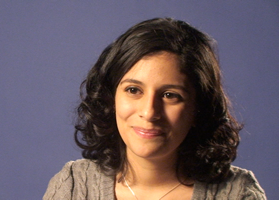 Viridiana Estrada
---
Viridiana Estrada finds a home with the UTSA Neurosciences Institute
---
Honors College student will pursue an M.D./Ph.D. to build a career in neurosurgical research
Meet Viridiana Estrada. She's building a research career with the help of UTSA neuroscientists.
While a student at John Marshall High School, Estrada earned automatic admission to UT-Austin. Despite being accepted at various universities, she ultimately decided on UTSA, opting to remain close to her San Antonio family.
"What I really liked about UTSA—it's something that I didn't realize at first," Estrada recalls. "I liked that there are a lot of great researchers to work with and learn from here, especially those in the Neurosciences Institute."
And Estrada is taking advantage of every opportunity.
The undergraduate is pursuing a psychology degree, medical courses and Highest Honors through the UTSA Honors College. To achieve those goals, she's intensely focused on academics.
She's also taking advantage of UTSA's access to great research opportunities such as the MBRS-RISE program and the McNair Scholars Program. Under the supervision of UTSA neuroscientist Nicole Wicha, Estrada has learned how to use event related potentials to study how older Spanish-speaking adults predict language. Her findings are presented in her honors thesis.
Outside of the classroom, the undergraduate has networked with UTSA researchers and students through Neuroscientists Evolving Undergraduate Research Opportunities (NEURO), the Neuroscience Institute's student organization.
Though seemingly disparate, Estrada's collective experiences at UTSA prepared her for a career-altering placement in a summer research program offered by the University of Wisconsin-Madison. She applied to work in one of two laboratories, but fate placed her in a third.
That summer, Estrada learned how to implant cannula into the ventral medial prefrontal cortices of rats, a surgical procedure that allows researchers to manipulate and study the rats' eating patterns in response to various chemicals such as amphetamines. The technique merged Estrada's academic interests, calling her attention to a new career path in neurosurgical research.
"Since I've been little, I've always been involved in learning," she says. "Science has that ability to lead you to more learning. Science builds the foundation for increasing knowledge."
She now hopes to pursue an M.D./Ph.D. to fully pursue a neurosurgical research career. She admits it won't be an easy road, because so much more education is required, but she says she's determined to weather the challenge because she knows now from experience that a career in neurosurgical research is exactly what she wants.
– Christi Fish