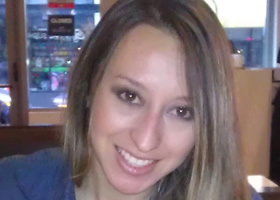 Daniela Vazquez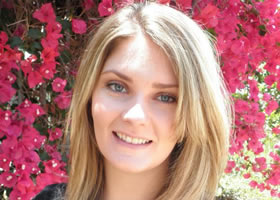 Melissa Park
---
Shaping the Future, One Youth at a Time
---
UTSA confers 18 inaugural master's degrees in School Psychology
Daniela Vazquez was raised in a small town called Los Garza, Agualeguas, Nuevo León in Mexico. When Vazquez completed secondaria, Mexico's equivalent of middle school, she made an enormous decision. With a driven personality and the will to succeed, the American citizen decided to move in with her aunt in San Antonio to continue her education in the United States.
That 2001 move, however, was more difficult than she anticipated.
"It was a huge impact on me. I was from a small town. I didn't speak any English and it was hard to make friends," she recalls. "Not only did I have to confront an unknown language and culture, but I also had to leave my parents behind. It was devastating to be so far from my loved ones while also going through a significant culture shock."
Little by little, though, she learned some English and began to develop a circle of companions. She made friends with other students from Mexico and Central and South America, and exchange students from Russia and Japan. She also joined Alamo Heights High School's soccer, cross-country and track teams, its multicultural club and ROTC.
When she graduated from high school, her academics were high enough for admission to UTSA and Texas A&M. She declined both offers of admission, however, in favor of a community college. She was afraid of the college costs and unaware of opportunities to secure financial aid.
"This experience changed my entire life, but with time and effort I learned English and became self-sufficient. I began setting goals and became the first generation in my family to graduate from college."
In 2008, Daniela earned her associate's degree in Psychology. Ultimately, she made the leap to UTSA, graduating with her bachelor's degree in 2009 while working multiple jobs at a time to fund her studies.
"I knew I couldn't get such a great job with just a bachelor's in psychology," she says. "I knew I needed to study more."
She started researching master's programs and became interested in School Psychology. In 2010, she was among the first group of students to take courses through UTSA's new master's program in School Psychology.
The program, housed in the UTSA College of Education and Human Development, trains students to become nationally certified school psychologists. Course work teaches students about the tools, resources and strategies needed to improve the educational experience of all students. The 66-credit hour program also requires a 300-hour practicum and a 1,200-hour internship to teach UTSA students how to conduct, interpret and apply scientifically-based research on learning, development, mental and academic health and instruction.
"Our master's program is quite unique," said Norma Guerra, chair of the UTSA Department of Educational Psychology. "Our students come from all over the United States, and our faculty come from the best doctoral programs in the field. If a student is looking for a particular field work experience, we do everything we can to give it to them."
That unique mission and the desire to help at-risk youth attracted Melissa Park to UTSA. The Liberal Studies major originally intended to pursue a career in elementary education and spent time volunteering in low-income schools as a tutor for students not meeting educational expectations.
"When I realized one of my students likely struggled due to an undiagnosed reading disability, I decided I wanted to advocate for at-risk students and prevent them from falling through the cracks like this student did," she said.
With a strong desire to help special education students, she began researching the nation's master's programs in School Psychology.
"Some school psychology programs are aimed toward state licensure while others allow graduates to receive a national license," she said of her decision to attend UTSA. "Being able to obtain a national license was a very important part of my selection process."
Ultimately, the fledgling program did not let her down. When it came time for Park to decide on a school district to complete her internship, she applied to programs all across the country. She landed at Denver Public Schools, a district that serves 82,000 students from urban and at-risk neighborhoods as different as night and day.
"At my school, a Blue Ribbon School that receives Title I funding, a lot of the students I see are facing poverty, homelessness, deaths of loved ones, and other unique events which impact their ability to succeed. In many cases, I work with students on developing academic determination, self-esteem, coping strategies and social skills. I'm the go-to person for students who are afraid to talk with their teachers or parents. I teach them how to cope with the things they have going on at home so they can be more successful in school."
While both Vazquez and Park say their work can be "frustrating" or "stressful" at times, they agree that the benefits they reap from seeing their students progress are beyond rewarding.
Moreover, the UTSA master's students are quick to point out that their training has afforded them security. Just weeks ago, both women locked in excellent jobs.
Guerra is excited about that. And, like Vazquez and Park, she encourages others to take a serious look at enrolling. "The best is yet to come."
Learn more about UTSA's master's program in Educational Psychology.
– Christi Fish