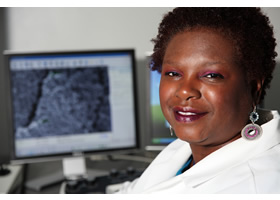 Michou Kelley
---
UTSA engineer Michou Kelley achieves dream after 25 years of perseverance
---
Grandmother's determination to become an engineer never waned through life's challenges
Though delayed more than 25 years due to a series of challenging life events, Marie-Michelle "Michou" Kelley, 49, is on the brink of receiving her Ph.D. in biomedical engineering and fulfilling her lifelong dream of becoming an engineer.
Born in New York City to Haitian parents, Kelley's childhood was riddled with physical and emotional abuse. She found an escape in school and dreams of an engineering career. "I was the classic engineering kid," she explains. "I was forever taking things apart, and all I ever talked about was being an engineer and building things."
That engineering career seemed attainable when Kelley graduated from high school at age 16. College ambitions were derailed, however, by the death of her godmother and mentor, Dounia.
"I was born at a time when there weren't a lot of female engineers. Dounia was my role model. She wanted to be an engineer when she was a girl and never had the opportunity. But she understood what I longed for. She encouraged me to find my passion and follow it. I was lost when she died of breast cancer," recalls Kelley.
By 19, Kelley was married and had become a mother. For the next four years, Kelley went to school off and on for engineering. In 1987, her life ran off track again when her husband abandoned her and their two children. As a struggling single parent, Kelley opted to quickly become certified as an electronic technician so that she could get immediate work and provide for her family.
In 1997, she went back to UTSA for engineering. However, within a few months, she faced the unexpected loss of her mother, who also died of breast cancer.
Once again, her dream was put on hold.
Finally, Kelley returned to UTSA in 2003. She persevered and received her bachelor's degree in electrical engineering in 2006. Immediately after graduation, she began pursuing her doctoral degree in biomedical engineering.
Inspired by her tragic losses, Kelley's doctoral research has centered on metastatic breast cancer. Her Ph.D. dissertation addresses a way to increase the effectiveness of chemotherapy treatment for cancer patients while minimizing its side effects.
While her research may well have a global impact, Kelley believes she's already made a mark on a smaller scale.
"My grandchildren have come to the lab with me, the same way my sons did. My grandchildren probably don't realize it now, but someday, when they're facing a challenge, they may look back and think, 'Wait a minute, my Nana did what? If she can do that, I can do this.'"
"Through her dedication and persistence, Michou has made a significant contribution as a doctoral student at UTSA," shared Mark Appleford, UTSA assistant professor of biomedical engineering and Kelley's advising professor. "It was a pleasure to have mentored such an individual who has overcome so many challenges yet remained a true optimist and ambassador for biomedical research. We celebrate a great moment with her graduation and the knowledge that she will continue to inspire others in the years to come."
Never giving up in the midst of her challenges, Kelley has proven that persistence certainly does pay off.
- Randy Lankford