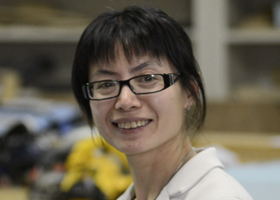 Xuhua Cheng
---
Merging cultures and styles
---
COA grad and Chinese native Xuhua Cheng earns second master's degree at UTSA
Xuhua Cheng served for a decade as an architect in her native China, working with a corporate team to turn out designs for large projects each month. When her husband accepted a job in Austin, she moved from Shanghai with him and their son, now age 9. They adjusted to the cultural differences fairly easily, but without a U.S. architect license, she couldn't continue in the field that she loved. But, UTSA had the answer to her problem.
Even though she had a bachelor's and master's in architecture from Chinese universities, she would need an American degree in order to test for the U.S. license and become an architect here. After admission to UTSA, Cheng was honored to receive the Kimberly and Ron Blank scholarship to assist her on the path to a second master's that she will receive this May.
Her goal was to understand the differences in Chinese and American approaches to architectural design and to merge them into her own style. She soon learned that, in China, the process is much faster, while in the United States, architects are more creative.
A large Chinese team takes two weeks to design a project, while a smaller U.S. team takes one to two months to find the best solution. U.S. projects are on a smaller scale, focus more on function and have more local flavor. In China, more concrete is used -- in the U.S., more wood. But, Cheng says both countries are too focused on aesthetic experimentation and not enough on the lives of ordinary people.
Cheng credits UTSA Assistant Professor Ian Caine as "the perfect professor," who was instrumental in helping her combine the different approaches.
"Ian taught me that everything should be a system," said Cheng. "I would make a list of ideas and add more each week, but Ian said to stop thinking of more and to pick one. He gave me good feedback and taught me how to work more effectively and efficiently -- and to have a new view of the design process that would fit the environment and the client needs."
Through her degree program at UTSA and meeting local architects, Cheng has learned a lot about U.S. design. She found new confidence, developed skills to combine form and function, and learned the importance of adding local and national flavor to architectural design.
In 2013, on the way to her Master of Architecture degree, Cheng won the UTSA Best Designer Award and an AIA San Antonio Student Design Award. With her new architect license, she hopes to split her family's time between the United States and China. She wants her son to remember his heritage, and she wants to work on international projects.
"I think the next step in China will be for architects to develop a new Chinese style and not simply build quickly and copy international styles," said Cheng. "I want to be part of that work."
– Tim Brownlee