Also in this issue
On the Background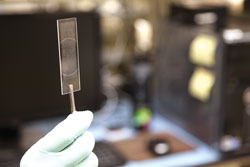 According to the Centers for Disease Control, approximately 1.7 million nosocomial, or hospital-acquired infections (HAIs), from all types of microorganisms, including fungus, cause or contribute to 99,000 deaths ever year in the United States. Through the use of high-throughput analysis, the UTSA Colleges of Engineering and Science aim to change that.
More at "Microbial Wars in Engineering".
Editorial
A message from the Dean of the College of Engineering
The essence of engineering is problem solving and innovation with the goal of improving the human condition. It includes efforts as diverse as engineering, better materials for roads and highways, improving wireless communications, developing new medical technology, and making spacecraft for interplanetary travel. At UTSA we are committed to not just teaching our engineering students the fundamentals and theories behind technical principles, but also to unlocking the innovator that is a part of every engineer.
In this respect we have been very successful over the past few years as our Center for Innovation and Technology Entrepreneurship (in collaboration with UTSA College of Business) has assisted our students in starting new businesses based on their inventions. This approach has infused new energy among the student body and our faculty and consequently the number and quality of innovations is increasing rapidly. In this issue you can read about just some of the many successes we have seen.
The secret to successful engineering students is quality teaching. Quality teaching requires outstanding teachers. At UTSA Engineering we are fortunate to have some of the very best. Every year The University of Texas System picks just a handful (50-60) of faculty from among the several thousand teaching at its 15 component universities across the state, and honors them as Regent's Professors for excellence in teaching. This year three of our engineering faculty members were selected for this very prestigious honor: Dr. Randy Manteufel, Dr. Can Saygin, and Dr. Heather Shipley. Having so many awardees at the same time from one college is rare and we are extremely proud of our professors!
Lastly, extracurricular activities are a big part of any college education and engineering is no different. Our students participate in varsity sports, the UTSA band, photography and videography, and various service organizations among a million other activities. In this issue we highlight just a few students and their fun activities.

C. Mauli Agrawal, Ph.D., P.E.
Peter T. Flawn Professor
David and Jennifer Spencer Distinguished Dean's Chair in Engineering
Read More
---