News Bytes
Alamo Manufacturing Partnership
San Antonio's eight-county manufacturing community, The Alamo Manufacturing Partnership (AMP), co-led by The University of Texas at San Antonio and the San Antonio Manufacturers Association, was among 12 communities that have received designation under the Obama Administration's Investing in Manufacturing Communities Partnership (IMCP) initiative of the U.S. Department of Commerce.
"This federal designation not only provides significant opportunities for our regional community, industry growth, and research at UTSA through federal funding opportunities, but it will also enable a deeper collaboration among the partners in our community beyond federal opportunities," said Can Saygin, professor of mechanical engineering at UTSA, assistant vice president for research and the AMP point of contact for federal relations.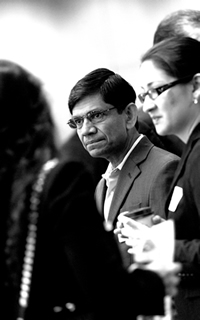 The IMCP designation allows the eight-county Alamo region to receive coordinated support for its strategies from 11 federal agencies such as the Environmental Protection Agency, National Science Foundation, Department of Agriculture, Department of Commerce, Department of Defense, Department of Housing and Urban Development, and other agencies.
IMCP communities also receive a dedicated federal liaison to help them navigate available federal resources and are recognized on a government website, accessible to prospective private foreign and domestic investors who are looking for information on the communities' competitive attributes.
"The significance of the IMCP designation by the U.S. Department of Commerce is a testament to the economic growth experienced in the South Texas region by the manufacturing sector. The AMP partnership demonstrates that strategic alliances are important tools for economic development," said UTSA Senior Associate Vice President for Economic Development Robert McKinley. "The combination of industry, education, and economic development organizations are valuable assets for the growth of manufacturing sector investment in the Alamo region."
The two research and development partners of the Alamo Manufacturing Partnership, UTSA and the Southwest Research Institute ® (SwRI®), are expanding their already-strong collaboration.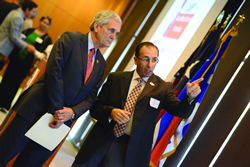 Specifically, the UTSA Center for Advanced Manufacturing and Lean Systems (CAMLS) and the Automation and Data Systems Division of SwRI® are developing proposals and seeking opportunities in various areas ranging from smart manufacturing systems to workforce and training programs to small business assistance initiatives.
"The AMP designation has focused the priorities of area manufacturers and is leading to increased collaboration between the AMP organizations," said Paul Evans, director in the SwRI Automation and Data Systems Division. "With our complementary research and development roles, SwRI and UTSA are working to develop new opportunities that will help bridge manufacturers' needs with innovative technologies and best practices."
Manufacturing activities are wide and varied at UTSA. The UTSA College of Engineering offers academic programs in mechanical engineering, and its faculty members and students conduct manufacturing-related research. Moreover, CAMLS provides research, development, education and training opportunities in process improvement using lean manufacturing and six sigma techniques, logistics engineering, supply chain management, warehouse systems, and automation technologies, including advanced sensors and robotics, to manufacturing companies and service organizations across the nation. Research and development is conducted out of CAMLS in state-of-the-art laboratories while graduate and undergraduate students are exposed to various advanced manufacturing techniques and methodologies.
"As a mechanical engineering faculty member affiliated with the Center for Advanced Manufacturing and Lean Systems, I am thrilled about the new designation of our region as a manufacturing community," said Krystel Castillo, GreenStar Endowed Assistant Professor of Mechanical Engineering. "This designation will allow us to access federal funds to conduct research in advanced, integrated and sustainable manufacturing to strengthen San Antonio's economy. Enhancing and facilitating access to workforce training and education will serve as a response to the rapid growth of San Antonio's manufacturing base."
---
Engineering materials to prevent landslides
Who knew a few plants could save a life? Jie Huang, a UTSA civil engineering assistant professor, certainly did and he is letting others know how in a new paper on preventing landslides with plants, which was published in September 2015 in the scientific journal Landslides.
"When you have rainfall, soil can start to weaken and move and that's one of the major causes of a landslide," Huang said.
Landslides can be tricky. While they only kill about 25 to 50 people on average every year in the United States, they cost billions annually in property damage. The problem with planning against one is that the weak layer of soil is often so far underground that it can't be readily detected, and in some cases just one instance of rainfall can cause a landslide. A few weeks of rain in Guatemala caused 9,000 landslides in 1998.
The solution, as it turns out, is planting vegetation in the soil. Plants absorb water and reduce water infiltration that would otherwise weaken the soil and eventually cause a landslide. The recent global increase in drought has caused a lot of vegetation to die, resulting in more landslides. Replacing these landslide-halting plants is usually achieved through hydroseeding, which uses a pump to blast seeds over a surface.
What Huang is bringing to the table is a better method of creating vegetation in rocky areas or steep slopes where plants don't usually grow well and seeds from hydroseeding don't stick. Hydroseeding is usually spread over existing soil, not in rocky or dense areas where it would be hard for seeds to grow.
"We created a mixture of soil, fertilizer, soil conditioner, fiber, cement and a water retention agent to make the seeds stick," he said. "This way, they'll grow through cracks in the rock and even off a slope."
The engineered mixture essentially is a garden and a gardener all in one. The added soil and adhesive allows the seeds to grow in unusual places, while the water retention agent removes the need for plant maintenance.
---
Post-doc awarded NSF RAPID funding to study Wimberly flooding
Chad Furl, a post-doc in the College of Engineering's Department of Civil and Environmental Engineering, was awarded National Science Foundation Rapid Response Research (RAPID) funding to study the massive flooding that took place along the Blanco River this past May. Numerous homes were swept away in Wimberley, TX, nine people died, and 2 people are still missing after the flooding that took place in the small city located on the banks of the Blanco River.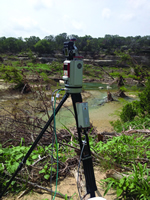 "The morning after the flood I read the flood wave had overtopped I-35 near San Marcos, I knew immediately that this was a major event," said Furl, who specializes in Texas Hill Country flood hydrology. "I started processing radar data and setting up models the next day and have been working on it since."
Realizing that this was a once in a lifetime event, Furl knew that he needed to get out into the field.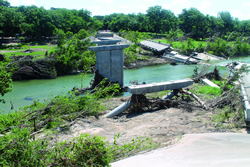 "Engineers and hydrologists can do a lot from behind the computer, but nothing can replace an up close examination of the river and floodplain," he said. "The high water mark and stream geometry data I've been able to collect will be useful to myself and others working on the flood."
Wimberley is located in central Hays County in the heart of the Texas Hill Country, between Austin and San Antonio, only 16 miles from San Marcos. The center of Wimberley is situated at the confluence of Cypress Creek and the Blanco River, roughly 1,000 feet above sea level on the Edwards Plateau. This past summer, Furl gathered data along 125 spots along the Blanco River, from San Marcos to the headlands of the watershed which are located west of the town of Blanco.
"The data collected as part of the RAPID will be useful in calibrating and validating a hydrological model of the basin," Furl said. "Once the model is working well we can examine any number of research questions. Specifically I'm interested in evaluating the hydrometeorological controls on flood wave propagation, understanding the rarity of the event, and examining the ability of our models to do real-time flood forecasting."
According to Hatim Sharif, associate professor in the Department of Civil and Environmental Engineering, Texas leads the nation in the numbers of flood fatalities and, if the handful of big events such as major hurricanes and dam failures are excluded, Bexar County is #1 in the US for flood fatalities over the period between 1959-2015.
Being able to predict where and when flooding will happen, could save lives.
"The recent floods in Texas were unprecedented and caused loss of lives and huge damage," said Sharif. "Chad's project will document the impacts of these floods, examine the scale of the damage in areas such as Wimberley, TX, perform a forensic analysis of the consequences, and understand how and why these events have evolved. Forensic hydrology is relatively new and most probably this is the first NSF award ever on the topic."
---
SwRI, UTSA invest in joint research project
Southwest Research Institute (SwRI) and UTSA's Office of the Vice President for Research have selected College of Engineering's Krystel Castillo and SwRI's Jimell Erwin, Ph.D., and Monica Medrano to recieve $125,000 through the Connecting through Research Partnerships (Connect) Program for their project "An Efficient Circulating Fluidized Reactor Technology Integrated into a Stochastic Model with Biomass Quality Variables for Sustainable Biofuels and Biobased Products."
The study is to develop a supply chain model for the new field of commodity biomaterials and biofuels starting with feedstocks from non-food crop resources and their descriptions and specifications all the way to finished products. SwRI's role will be to develop a prototype biofeedstock upgrading process using its new fluidized bed reactor pilot plant to supply data to the UTSA model.
Since its inception in 2010, the Connect Program has funded nine projects from 49 proposals submitted by teams from SwRI and UTSA.
---
COE faculty receives seed funding
Three research projects conducted by College of Engineering faculty will receive $20,000 in seed funding from the Office of the Vice President for Research in FY 2016. The Grants for Research Advancement and Transformation (GREAT) funding will allow the researchers and their collaborators to conduct preliminary studies in new areas and assemble data that will position the research for competitive extramural funding in future years. The following projects were selected to receive support:
Computational modeling of trabecular cutting as a novel approach to treat patients with diastolic heart failure - Mechanical Engineering Professor Hai-Chao Han will use computational modeling to develop a new surgical technique to treat patients whose hearts do not relax normally, a condition known as Heart Failure with Preserved Ejection Fraction (HFpEF).
Efficient Structural Health Management and Prognosis through a Novel Fracture Mechanics Approach - Civil and Environmental Engineering Assistant Professor Arturo Montoya will use computational modeling and multicomplex mathematics to improve the way that structural analysts assess how fatigue and fractures affect the integrity of a structure and/or contribute to its overall collapse.
Air Pollution and Weather Controls on Childhood Asthma in Texas - Civil and Environmental Engineering Associate Professor Hatim Sharif will conduct research to better understand how air pollutants affect children with asthma, a disease that is responsible for nearly two million emergency room visits each year.
---
Working to detect chemical terrorist attacks
At least one million people have died in chemical warfare since World War I, and with conflict continuing to rage in Syria and all over the world that number grows every day. UTSA Associate Professor of Mechanical Engineering Kiran Bhaganagar has received a $260,000 grant from the Department of the Army in an effort to slash that number significantly with a new method of predicting the path of weaponized chemical agents, which would allow for swifter evacuation.
"These chemical agents are a huge threat to the health and lives of so many people," Bhaganagar said. "They can spread a long distance and kill a lot people."
Chemical agents are different from explosive chemicals, which cause shear, localized destruction through force. Bhaganagar and her team are targeting chemical weapons such as the nerve agent Sarin, which has been used in many attacks in the Syrian civil war and can diffuse into the atmosphere and spread for hundreds of miles.
---
The now and future of solar energy
For many, solar energy is a solution to the problem of finding clean, renewable energy, as well as a sign of a growing American industry. UTSA Electrical and Computer Engineering assistant professor Hariharan Krishnaswami has some insight into the future of solar energy and how it might soon have coal looking in its rearview mirror. He researches solar forecasting and smart grid technology, and currently is focusing on how to improve the electronics of solar energy systems.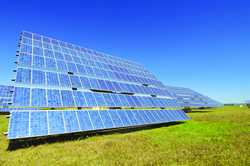 "There's an energy boom on the way," he said. "Solar energy has been a growing industry for a while, but it's just now starting to rise as an option for residential customers."
The main obstacle to solar energy in homes has been the cost. However, Krishnaswami said, the cost between traditional energy and solar energy is rapidly becoming narrower.
"The price parity between coal and solar is disappearing," he said. "The goal is to get interest going on a residential scale and show it's a prudent investment."
Krishnaswami, who is also a faculty member in the Texas Sustainable Research Institute, conducts part of his research with the solar panels on the roof of the H-E-B University Center, encouraging students to grow their expertise in an expanding industry. Right now, he's at work on improving the functionality and reliability of solar inverters and how they interact with the grid that powers them.
"We make solar engineers," he said.
---
Research may change approach to battlefield blood transfusions
Blood research conducted by biomedical engineers from the University of Texas at San Antonio College of Engineering, in collaboration with the Blood Research Program of the U.S. Army Institute of Surgical Research (USAISR), could change the way injured soldiers are treated on the battlefield.
In battlefield settings, stopping a patient's bleeding is integral to successful treatment. Platelets are blood cells that are integral to the body's natural clotting procedures, which assist in stopping bleeding. During surgery, platelets are transfused when a patient has lost massive amounts of blood due to injuries.
In collaboration with the USAISR, Anand Ramasubramanian, associate professor in the UTSA Department of Biomedical Engineering and the South Texas Center for Emerging Infectious Diseases, and his team of UTSA graduate students subjected platelets stored in refrigerated temperatures to a battery of tests. For the past five years, Ramasubramanian and his graduate students have been closely working with Lt. Colonel Andrew Cap, chief of Coagulation and Blood Research and his team at USAISR.
These researchers found that cold-stored platelets could actually be a more effective alternative in the cessation of bleeding than the current standard-of-care product. Results from the laboratory showed that cold-stored platelets not only respond better to injuries and form stronger clots. For battlefield surgery purposes, these findings could be the difference between life and death for many injured soldiers.
---
Deans partner to enhance teaching methods for students
JoAnn Browning, dean of The University of Texas at San Antonio (UTSA) College of Engineering, and Betty Merchant, dean of the College of Education and Human Development, have received a five-year $223,072 National Science Foundation grant to collaboratively reinvent higher education teaching methods in UTSA classes where the material has proved difficult for many engineering students.
Browning and Merchant are creating a program that will pair select engineering faculty with COEHD curriculum experts to enhance their classes' curriculum to meet the needs of modern students. The goal of the program is to help the engineering faculty teach upper-level concepts in the most relatable ways possible to the next generation of engineering professionals, digital natives who were raised on technology.
---
COE program reaches out to financially disadvantaged students
Paying for college can be rough. Everyone makes sacrifices, but now students in the College of Engineering have another option for support. The UTSA Scholarship Program for Undergraduate Retention and Success (SPURS), will provide mentoring and assistance to financially disadvantaged students, thanks to a $626,890 grant from the National Science Foundation.
"Several of our academically talented students are financially disadvantaged," said Civil Engineering Department Chair Heather Shipley, who helped create the program along with College of Engineering faculty members Ruyan Guo, Rena Bizios, and Krystel Castillo. "This gives us an opportunity to give them almost full scholarships to cover their tuition for a year and give them tools that will make them successful in their careers or graduate school."
The program was the result of an effort across all departments in the College of Engineering to reach out to students under financial strain, who will soon have the opportunity to benefit from mentoring, professional development and exposure to research in addition to help with covering tuition costs.
---
Wilkerson wins ORAU Junior Faculty Award
Justin Wilkerson, assistant professor in the Department of Mechanical Engineering at UTSA, is one of 35 faculty to receive the nationally competitive Ralph E. Powe Junior Faculty Enhancement Award administered by the Oak Ridge Associated Universities (ORAU).
"This accolade is a testament of Dr. Wilkerson's hard work and dedication to the field, and signals that even greater things are to come," said UTSA President Ricardo Romo in a congratulatory letter to Wilkerson.
---
Castillo receives $1M for BE AWARE
Krystel Castillo, GreenStar Endowed Professor in Energy, and her BioEnergy and Water for Agriculture Research and Education (BE AWARE) Network has received $1,000,000 over fours years from the U.S. Department of Agriculture and the National Institute for Food and Agriculture.
The BE AWARE Network is a collaborative project between UTSA, UT-Rio Grande Valley, the University of Puerto Rico-Mayaguez, several community colleges and multiple U.S. Department of Agriculture agencies. The goal is to increase minority participation in advanced degrees in STEAM, enhance interdisciplinary research and build a highly trained workforce with strong analytical, computational and scientific skills.
---
Bone scaffolding developed at UTSA in clinical trials
Teja Guda, an assistant professor of biomechanical engineering, and Joo L. Ong, College of Engineering associate dean of administration and professor of biomedical engineering at UTSA, have been working on a product called scaffolding, which is meant to replace bone grafts as a treatment for people who have lost bone matter.
"It almost looks like a kitchen sponge," Guda said. "The scaffold is 85 percent open space. The cells grow into it, and because we give them something solid to grow into, they start to regenerate tissue."
Chemically, the scaffolding is made of the same ceramics that are found in bones.
"The idea is to mimic nature," Guda said. "The body is what we want to duplicate, so why not literally duplicate the building blocks?"
Foam, in fact, the same foam used in soundproofing and speakers, fills the scaffolding to rebuild a part of the human body. It's glazed in the same way ceramic pottery is glazed, except its ceramic putty has the same chemical makeup of human bones. It's put into a furnace to harden the material.
"The big problem with glazed pottery is if you drop it, it cracks," Guda said. "Now, in the fourth generation and thanks to a protein coating, the current generation of scaffolding is very much improved for performance, in that now it can chip but it won't disintegrate."
Scaffolding could replace bone grafts as a treatment, which is taking bone either from the patient's body or from a cadaver. But cadaver bones have the risk of transmitting disease or not being compatible with the patient's body.
"If the graft is taken from the patient's body, the pain from that second injury is often more than the original injury," said Guda. "There's only so much you can scavenge from across the body. You don't have a lot of spare bones lying around."
Animal trials have been successful and the product is now undergoing testing.
---