Student Success
Society of Automotive Engineers Formula Team competes in Nebraska
UTSA's Society of Automotive Engineers Roadrunner Racing Formula Team placed 17 out of more than 80 international university teams at the Formula Competition held in Lincoln, Nebraska this past June. The team placed 5th in cost, 7th in fuel efficiency, 10th in endurance, 36th in design, 37th in autox, 53rd in presentation, and 17th overall.
According to team members, almost all of these scores represent the team's best–ever points or place finish in the past 20 years of competing.
---
UTSA ASCE places at national Student Steel Bridge competition
The University of Texas at San Antonio's American Society of Civil Engineers Steel Bridge team won 3rd place in lightness, 4th in efficiency and 11th overall out of 47 universities at the National Student Steel Bridge Competition this past spring. The competition took place at the University of Missouri in Kansas City.
"I am so proud of all of the Steel Bridge Team members," said Heather Shipley, chair of the Department of Civil and Environmental Engineering. "The fact that we moved up 11 places in the overall competition from last year is amazing, and it is a testament to our students' hard work. I would like to thank Dr. Manuel Diaz for his mentorship and the time he invests in our ASCE students."
---
Society of Automotive Engineers Baja Team competes in Oregon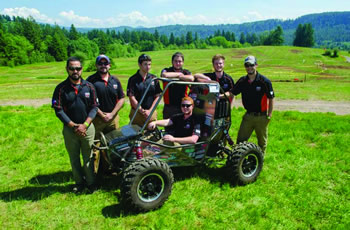 UTSA's San Antonio Society of Automotive Engineer's Roadrunner Racing Baja Team competed in the Baja SAE competition in Portland, Oregon, last spring. The team placed 16th out of 100 universities in the rock crawl event, and placed 39th in the hill climb event. In addition to these two events, there was the four–hour endurance race on the last day of competition. The team received 10th place in the cost audit for being the most inexpensive vehicle until a late penalty put them back to 22nd.
---