News Bytes
Cao accepted to USAF Summer Faculty Fellowship Program
Yongcan Cao, assistant professor in the Department of Electrical and Computer Engineering, has been appointed to the 2016 Air Force Research Lab Summer Faculty Fellowship Program (SFFP) at AFRL-Munitions. The SFFP offers fellowships to university faulty to conduct research at one of the Air Force research facilities in the summer.
"I feel honored and excited to be selected for this fellowship," said Cao. "This is an excellent opportunity to learn what the Air Force is planning to do in the future and showcase some sampled research activities at UTSA."
The objectives of the SFFP are to stimulate professional relationships among SFFP fellows and the scientists and engineers in AFRL Technical Directorates and other Air Force research facilities. Additionally, the program is designed to elevate the awareness in the U.S. academic community of Air Force research needs and foster continued research at SFFP fellows' institutions and provide the faculty opportunities to perform high-quality research at AFRL Technical Directorates and other Air Force research facilities.
"Dr. Cao is a well-known researcher in the field of autonomous vehicles," said CJ Qian, professor and interim chair of the Department of Electrical and Computer Engineering. "This USAF summer faculty fellowship provides excellent opportunities for him to strengthen collaborations with the scientists at AFRL facilities and advance his research on the topics critical to the Air Force missions."
---
Wan Receives Institute of Industrial Engineers Award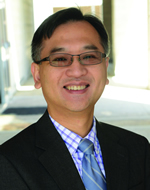 Hung-Da Wan, associate professor in the Department of Mechanical Engineering, has been awarded the Institute of Industrial Engineers' Lean Teaching Award for 2015. The award was offered by IIE's Lean Division for the remarkable work Wan has been doing to advance the knowledge and practice of lean concepts. The lean division's teaching award is given out annually to honor the services of a person or group of people who have developed curriculum and disseminated courses in the subject area.
---
COE Faculty Members Testify at State Capitol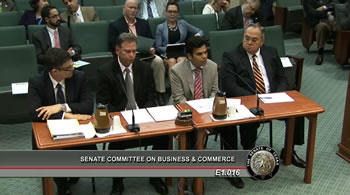 Ram Krishnan, Microsoft President's Endowed Assistant Professor in the Department of Electrical and Computer Engineering, and Jose Weissmann, civil and environmental engineering professor, both gave public testimony at the Texas State Senate this spring. Weissmann spoke to the Committee on Transportation on the subject of oversize overweight trucks and associated fee structures to recover pavement and bridge consumption costs. Krishnan spoke to the Business and Commerce Committee.
---
Qian Visits Former UTSA Scholars

CJ Qian, professor and interim department chair of the Department of Electrical and Computer Engineering, recently visited Nanjing, China, and had the chance to catch up with 10 former UTSA visiting students and scholars who are working or studying at universities in China. Shown in the picture are Shihong Ding, Junyong Zhai, Chuanlin Zhang, Lin Chai, Hongyan Chu, Zhigang Su, Qian Wang, Yijian Liu, Wenting Zha, and Qixun Lan.
---
COE's Krishnan Receives University Excellence Award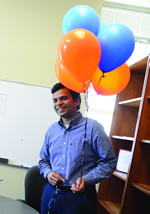 Ram Krishnan, Microsoft President's Endowed Assistant Professor in the Department of Electrical and Computer Engineering, received the President's Distinguished Achievement Award for Research Achievement at the 2016 University Excellence Awards Ceremony held April 14, 2016 in the H-E-B University Center Ballroom on UTSA Main Campus. The President's Distinguished Achievement Award for Research Achievement recognizes faculty who have conducted high-quality, high-impact research and who have made a substantial contribution to their field. Other awards given at the ceremony included the University Excellence Awards, President's Distinguished Achievement Awards, President's Distinguished Diversity Awards, Quantitative Literacy Program Faculty Excellence Award, and Richard S. Howe Excellence Awards.
---
Hall named IEEE AESS Undergraduate Student Rep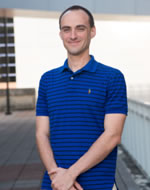 Garrett Hall, a junior electrical engineering student at UTSA, was recently named the IEEE Aerospace and Electronic Systems Society (AESS) Undergraduate Student Representative. As a community college student in Austin, Texas, Hall became involved in NASA's Reduced Gravity Education Flight Program, which spurred his interest in aerospace technologies. Hall transferred to UTSA in 2014, and now not only holds the AESS position, but is also active in UTSA's chapter of Eta Kappa Nu, the international electrical and computer engineering honor society of the IEEE.
---
Cyber In Society

Cedric Leighton, founder and chairman of Cedric Leighton Associates and Cedric Leighton International Strategies, a D.C.-based global strategic risk and cyber risk consulting company, poses with engineering students after his presentation Cyber in Society held this spring at the UTSA Downtown Campus. Col. Leighton, a distinguished war veteran, served as the deputy training director for the NSA, the squadron commander for the 316th Training Squadron, and the deputy director for Warfighter Support and Integration. UTSA's cyber security program has been ranked the best in the nation, according to a national survey of certified information technology security professionals. The Ponemon Institute conducted the survey for Hewlett-Packard.
---
Engineering Major is Committed to Service
Meet Sam Brown. He's been doing volunteer work for years, not for his resume, but because he believes it's everyone's responsibility to help each other out.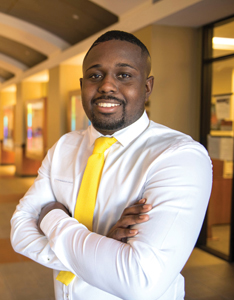 Born in Houston, Texas, Brown and his low-income family heavily relied on volunteer services in his community. "We had college students come and hand out backpacks full of school supplies in the fall," he said. "Around Thanksgiving they'd hand out turkeys."
Since high school, Brown has volunteered with his local community center in Houston to pay it forward. A football scholarship brought him to UTSA in 2012, and Brown has continued to travel home to volunteer.
"I see the kids we're helping out, and I remember that I was in their shoes not too long ago," he said. "I always felt so grateful. I knew back then that when I got older I'd give back to my community."
Since coming to UTSA, Brown has also pursued volunteer opportunities on campus. He is a member of the UTSA chapter of Volunteer Organization Involving Community Education and Service (VOICES), which enables him to tutor and play games with low-income students after school.
"That's my nature," he said. "In fact, it's everyone's nature. We're human beings. We have to help each other out and uplift each other."
Brown also volunteers with the Girl Scouts of South Texas. A few days a week, he uses the engineering skills he's developed at UTSA to transition the organization to a more modern computer system.
"Coming to UTSA has made it possible for me to do what I know I could always do, and to use those talents to help others," Brown said. "I always had these skills. I just had to grow and develop them."
Brown, who is on track to graduate in 2017 with a degree in computer and electrical engineering, plans to continue volunteering after college.
"Volunteering motivates me to do better in my studies," he said. "When I'm not studying, I'm volunteering. I make it my duty to show everyone in my neighborhood that there's a way out if you work hard."
Brown counts among his talents the ability to see even the smallest opportunities. He noted that his football talents in high school brought him a UTSA scholarship, which has now led to him tapping into his potential as an engineer.
"UTSA taught me to be proactive," he said. "I learned how to grow up here. It's prepared me so well that I have no fears about starting my career. I'm happy to have found a stable, solid life."
---
Biomedical Engineering Students Inducted into Phi Kappa Phi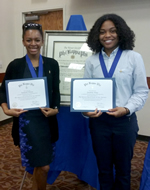 Kennedi Wilson and Jasmine King, biomedical engineering undergraduate students, were inducted into Phi Kappa Phi in the spring semester. Phi Kappa Phi is the nation's oldest and most selective collegiate honor society for all academic disciplines. Only the top 10 percent of seniors and 7.5 percent of juniors, having at least 72 semester hours, are eligible for membership. The honor society recognizes and promotes academic excellence in all fields of higher education and engages the community of scholars in service to others.
---
Recreating Antique Toys with Modern Technology
The Rowdy Walker may look like a simple device, but developing it was anything but. UTSA graduate student Christian Trevino started on the project, which is based on a toy from the 1900s, in 2015 and has been perfecting the 3D printed design over the last 12 months.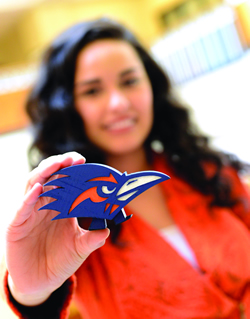 "Traditionally, this kind of toy is made up of three wooden pieces - a body with a fixed leg, a moving leg, and a hinge joint that attaches the two," said Trevino, who recently started her graduate studies in mechanical engineering at UTSA. "We have re-engineered the toy so that it can be 3D printed as a single, integrated assembly that includes the pin joint."
Trevino explained that after the toy is printed, she had to manually remove the extra material that held the leg in place so the toy could "walk" down an incline.
"Just like a wind-up toy uses potential energy stored in a spring, the walking toy uses potential energy as it descends downhill," said Pranav Bhounsule, the mechanical engineering faculty member who mentored Trevino. "However, unlike a wind-up toy that has an intricate mechanism, our Walking Rowdy relies on its mass distribution, inertia, and leg geometry to amble downhill."
Trevino said that the project wouldn't have been possible with out 3D printing because that allowed her to tune the geometry and mass distribution without having to compromise the likeness of the logo. Eventually, she hopes to mass produce the toy and sell it as a souvenir.
---
Race to Excellence
Student teams from UTSA's Department of Electrical and Computer Engineering swept the Central Region of the North America Finals of NXP Intelligent Car Race. The event, which took place in April at Texas State University, pitted students from all across the Central Region against each other, as they competed for a place at nationals, which will be held in Austin this summer.
---
Graduate Starts New Career after 20 years in German Air Force
Meet Thilo Janssen. He's a German Air Force veteran who's starting a new engineering career thanks to UTSA.
At 45, Janssen is a little older than the average college student. That's because before he was a Roadrunner, he flew fighter jets for the military in his home country, Germany, for 20 years.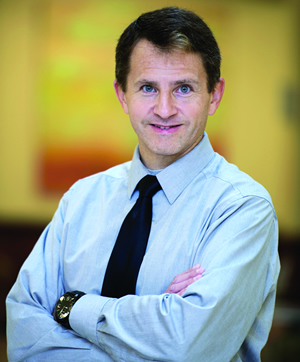 "When I was a kid, I knew I either wanted to be an engineer or a fighter pilot," Janssen said.
When the veteran turned 41, the age of mandatory retirement in the German Air Force, he pondered becoming an airline pilot.
"I quickly decided against that," he said. "I love flying, but after 20 years of flying jets, it would be like going from being a Formula One racer to a bus driver."
Instead, Janssen pursued his other childhood dream and decided to earn his electrical engineering degree.
He met his wife, a San Antonio native, while he was serving at Randolph Air Force Base, and he already knew San Antonio well from visiting his in-laws over the years. So moving to the Alamo City was a natural fit.
Janssen enrolled in San Antonio College in 2011 to start on his engineering degree. After two years, he transferred to UTSA and immediately found himself right at home.
"UTSA is very friendly and very diverse," Janssen said. "People are very open. I love that I can talk to anyone."
He's also enjoyed close relationships with his professors, who Janssen says really believed in him and were impressed by his dedication.
"Professors at UTSA take the time to answer your questions," he said. "I never hesitated to seek extra help, and they were always quick to respond."
A first-generation college student, Janssen was a member of UTSA's Integrated Bachelor's and Master's Degree Program, which allowed him to pursue his undergraduate and graduate degrees at the same time. He's also on track to graduate with a 4.0 GPA. He credits his academic success to hard work and determination.
"Time management is one of the hardest things I had to learn," he said. "I constantly studied, but I also wanted to make time for my family. There were a lot of sacrifices."
Janssen's family is extremely proud of his UTSA accomplishments. His wife and their relatives have a big, Texan celebration planned following his graduation. He also plans to travel to Germany during the summer to celebrate with his European friends and family.
Following those celebrations, the UTSA alumnus will return to the United States to begin a career in renewable energy. He's been fascinated by solar panel technology since he was a teenager. Because gas prices are so high in his home country, there's a strong national interest in all types of renewable energy.
"That's one thing I can bring over from Germany," he said. "Over there, we have more windmills than people."
---