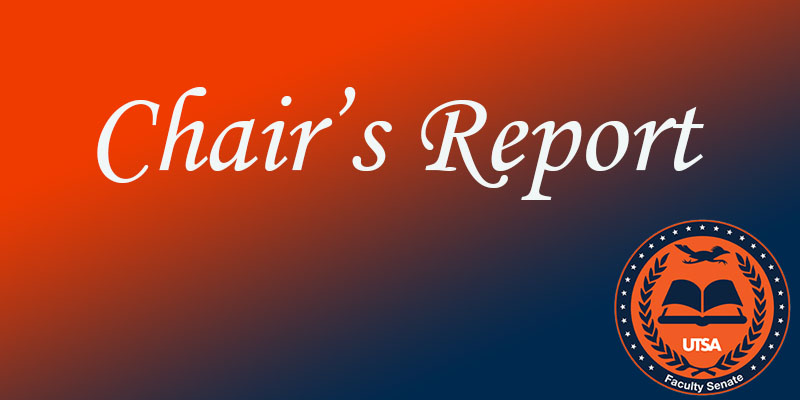 Dr. Emily Bonner
At the April Senate meeting Dr. Bonner said that she and Dr. Hernandez attended the most recent SYSFAC meeting. Some of the items discussed with Chancellor McRaven included taking on challenges such as physician burnout, sexual assault, and shared governance. He said that students should be able to participate in topics of discovery, debate, and dissent. He cautioned against overthinking problems; encouraging action-oriented solutions, and urged faculty to make issues known and express their opinions on these issues.
Additionally, Dr. Bonner said that the UT System Faculty Advisory Committee is working on exploring an Online Education Project, looking at student "belonging" as a pillar of student success, and is conducting dual credit and workload studies for which taskforces have been formed.
The Dean's Advisory Council and Chair's Council are currently seeking to suspend HOP 4.09 which requires that each TA enroll in 3 hours during the summer session in which they teach. For many, the pay might be less than the course registration costs and the payment deadline is before payments to TAs are issued.
Dr. Bonner said that there are some other initiatives happening within the Senate. The budget subcommittee is planning to submit recommendations related to transparency to the Senate, and then to the members of the university's budget taskforce. A working group on sexual harassment will be gathering recommendations to submit to Dr. Reyes and the Presidential taskforce. The Senate's Academic Freedom, Evaluation and Merit committee is conducting research on annual reports in relation to merit, and will be sending a proposal on program evaluation to the President. Dr. Bonner said that the Senate may want to look at implementing an electronic "suggestion box" for topics to take up, as well as creating a Facebook page to stay connected and showcase current issues being addressed by the Senate.
At the May Senate meeting Dr. Bonner said that a shared governance meeting was set for May 15th. A Qualtrics survey was recently sent out to gather feedback from departments regarding shared governance. The information generated was shared with the UT System visitors at the governance meeting. Dr. Bonner gave an update on CLASS. She said that the LEAD academy is actively recruiting, financial aid is looking at restructuring in the future to better align resources, and the academic pathways curricula are being set to allow students to register. She said that there is a CLASS PowerPoint currently uploaded to SharePoint with more information. Lastly, Dr. Bonner thanked the Senate for their time and hard work this year.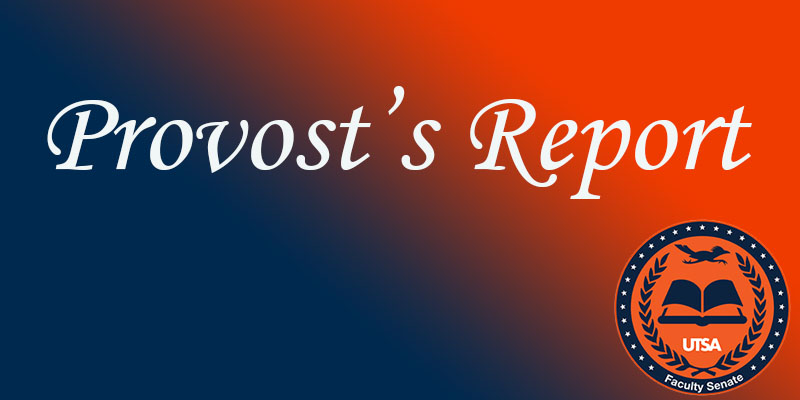 Dr. Mauli Agrawal
At the April Senate meeting Dr. Agrawal asked for the Senate's input on 3 items: (1) Faculty development – for incoming junior faculty, courses on grant-writing and teaching are required in the first year. The Provost asked for input on what other services should be provided that would benefit new faculty; (2) UTSA's sexual environment – the Provost stressed the importance of faculty and staff involvement to combat a negative environment. He encouraged everyone to think about how they could better educate themselves to foster greater awareness of this issue. Dr. Agrawal said that the Senate should take the lead in forming recommendations, especially those that would address sexual assault prevention; (3) Textbooks – Dr. Agrawal said that students have expressed concern about the cost of textbooks. He encouraged faculty to consider utilizing free, online materials where possible.
Dr. Agrawal also said that he was looking into the possibility of the creation of a mini-faculty center at the downtown campus. He said that although there are still overall space constraints, construction is underway for a new engineering building and additional parking on the main campus, which should help to alleviate some of these constraints.
At the May Senate meeting Dr. Agrawal said that he followed up on Senate concerns related to travel reimbursements. He said that some process issues were identified and that there is currently a lack of training for those involved in the process. He said that he is looking into mandatory training going forward. On another topic, Dr. Agrawal noted a correlation that has been identified between courses with the highest DFW rates and attendance. He encouraged everyone to think of ways to combat this and how to compel students to seek tutoring when needed. A question was asked regarding the new projects downtown. He said that a conference center is underway that is expected to hold about 300 people and will include breakout rooms. Student activities and advising will be moved to the same area, and there is the possibility of opening a small faculty center downtown. He confirmed that the BV theater will be used for some conferences, but will continue to be utilized as it is now. A question was asked regarding the status of the Presidential search. Dr. Agrawal said that he had no updates, but that a new President is expected to begin September 1st. A question was asked regarding hiring. Dr. Agrawal said that he has asked the Deans to provide him with lists of their top priorities for the budget.