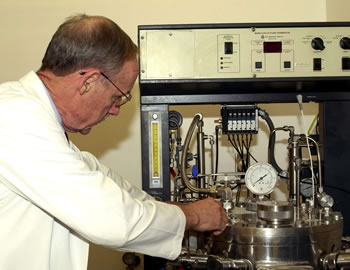 Professor of Biology James Chambers
with a bioprocessor
UTSA-Air Force biotechnology center to be dedicated Aug. 26
(Aug. 21, 2003)--The UTSA-Air Force Center of Excellence in Biotechnology and Bioprocessing Education and Research (CEBBER) will be dedicated in a ribbon-cutting ceremony at 8:30 a.m., Tuesday, Aug. 26 at Brooks City-Base, Building 175W.
The center will prepare San Antonio to assist in handling national vaccine demands. The 8,000-square-foot facility will be used to train both military and civilian personnel to handle vaccines, biosensors and other biological products.
---
Today's headlines
Article tools
---
UTSA President Ricardo Romo will be joined at the ceremony by Fred Kuhn, Air Force deputy assistant secretary for installations; Col. Thomas Travis, 311th Human Systems Wing commander, and Howard Peak, chairman of the Brooks Development Authority.
CEBBER is part of an educational partnership between UTSA and the Air Force Institute for Operational Health Risk at Brooks City-Base. UTSA will provide staff and some equipment for the facility, while the Air Force will provide the building, equipment and personnel who will be trained to work in similar biomedical facilities around the world. Both UTSA and the Air Force will have a teaching role in the training of Department of Defense and civilian personnel.
For more information, contact Jennifer Storm at 210-458-4009.