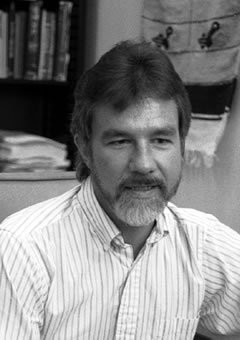 Richard Wenzlaff
In memoriam: UTSA Professor Richard Wenzlaff
(Aug. 25, 2003)--Richard Wenzlaff, UTSA professor of clinical psychology and chair of the Department of Psychology, passed away Saturday, Aug. 23. Wenzlaff died suddenly of a heart attack while playing tennis. Wenzlaff is survived by his wife, Ann Eisenberg, associate dean of the UTSA Honors College.
A memorial service open to all is scheduled for 1 p.m., Thursday, Aug. 28 at Porter Loring Mortuary, 1101 McCullough (I-35 at McCullough). For those who wish to attend, there will also be a rosary at 9:30 a.m. Aug. 28 and a Mass of the Resurrection at 10 a.m. Aug. 28 at St. Gregory the Great Catholic Church, 700 Dewhurst.
In lieu of flowers, the family would appreciate donations to the "Dr. Richard M. Wenzlaff Scholarship Fund." Donations can be made in care of the UTSA Development Office, 6900 North Loop 1604 West, San Antonio, Texas 78249-0618. Please write in the memo field "Dr. Richard M. Wenzlaff Scholarship Fund." For more information, contact Linda Lopez-George, corporate and business relations officer, at 210-458-4488.
---
Today's headlines
Article tools
---
"Dr. Richard M. Wenzlaff was a UTSA graduate who went on to become a world-class researcher in cognitive psychology," said Daniel J. Gelo, UTSA interim dean for the College of Liberal and Fine Arts. "Over the past two years, he led the UTSA Department of Psychology to a new level of distinction as chair. Rich was beloved by everyone who had the privilege of working with him. His passing is a great blow to the UTSA community and the field of psychology."
Wenzlaff taught at UTSA since 1985. He received the Dean's Outstanding Teaching Award 1998-1999, College of Social and Behavioral Sciences, and the President's Distinguished Achievement Award for Research Excellence 1993. He is listed in Who's Who in America and Who's Who Among American Teachers.
Wenzlaff earned a bachelor of arts degree in psychology at UTSA in 1978, a master of arts degree in clinical psychology at Trinity University in 1980 and a doctor of philosophy degree in clinical psychology at the University of Texas, Austin, in 1984.
With a specialization in psychopathology, Wenzlaff taught courses in fundamentals of psychology, abnormal psychology and clinical psychology. His recent research was in mental control of depression.
A licensed psychologist and a member of the Society of Experimental Social Psychology, Wenzlaff's articles appeared in journals including Journal of Cognitive Psychotherapy, Cognition and Emotion, Behavior Therapy, Annual Review of Psychology and Psychological Inquiry.
He received a grant from the National Institutes of Health to research thought suppression and vulnerability to depressive moods. Wenzlaff made presentations in the U.S. for the American Psychological Society, Society of Personality and Social Psychology, Southwestern Psychological Association and American Psychological Association.
His international presentations include talks for the International Conference on Experimental Existential Psychology, Amsterdam, Netherlands; Meeting of the World Congress of Behavior and Cognitive Therapies, Vancouver, Canada and Copenhagen, Denmark; and International Congress of Psychology, Brussels, Belgium.
For more information, contact Terri Reynolds, UTSA College of Liberal and Fine Arts, at 210-458-4359.