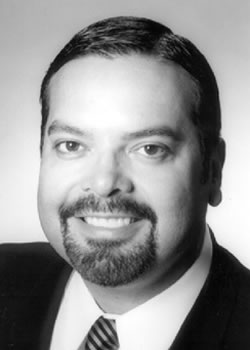 Henry Munoz III
Henry Munoz to speak Oct. 1 in Frost Bank Distinguished Lecture Series
(Sept. 17, 2003)--Henry R. Munoz III, chairman of the board of directors and CEO of Kell Munoz Architects, will present the keynote address during the Frost Bank Distinguished Lecture Series at 11 a.m., Wednesday, Oct. 1, in the UTSA Business Building Auditorium (2.01.02).
The event is sponsored by the UTSA College of Business and is free and open to the public.
Munoz is a successful entrepreneur, an award-winning designer, a cultural activist and a respected philanthropist. Under his leadership, Kell Munoz Architects Inc. has grown into the largest minority-owned architectural firm in Texas. Their design emphasis, Mestizo regionalism, incorporates into design the unique history, traditions and cultural evolution of the people of the Texas/Mexico Borderlands.
An active civic leader, he was the founding president of Texas Public Radio and has served in virtually every leadership position within the Greater San Antonio Chamber of Commerce. He sits on the board of trustees of his alma mater, Loyola University in New Orleans.
In addition to his civic duties, Munoz has raised over $2 million in scholarships for young people, including over $1 million for the UTSA Downtown Campus Scholarship Initiative.
Since 1999, Munoz has served on the board of trustees for the Smithsonian Institution and was elected vice chairman of the board in 2002. He spearheaded the capital campaign to restore the legendary Alameda Theatre and expanded its mission to include the first formal affiliation with the Smithsonian Institution. The museum, expected to open in 2005, is predicted to be the most visited museum of its kind in the United States.
Among the numerous honors bestowed on Munoz include his selection in 1988 by the San Antonio Express-News as one of 14 community leaders shaping the future of the city, the Profiles in Leadership Award, Philanthropist of the Year Award in 2000, the Leadership San Antonio Alumni of the Year Award and People of Vision in 2001. In 2002, he was one of 15 business people selected nationally for Entrepreneur of the Year recognition by Hispanic Business Magazine.
The Frost Bank Distinguished Lecture Series brings prominent business and community leaders to UTSA to share their knowledge and experiences with students and others in the university and business community. The lecture series, which began in 1988, presents an opportunity to broaden our understanding of the business world and the individuals who lead it.
For more information, contact Wendy Frost at 210-458-7313.