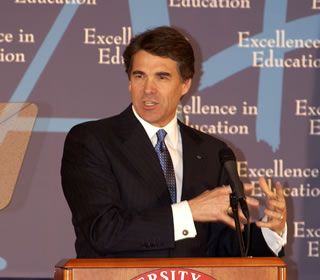 Gov. Rick Perry
Governor announces project at UTSA education summit
(Jan. 27, 2004)--Gov. Rick Perry was greeted with applause and cheers from a crowd of more than 200 as he unveiled the Texas High School Project at an education summit at The University of Texas at San Antonio Downtown Campus.
"I believe now is the time to usher in a new era of educational excellence in Texas that is not based on meeting minimum standards, but focusing on maximum achievement," said Perry.
---
Today's headlines
Article tools
---
The $130 million public-private initiative is designed to increase high school graduation and college attendance rates, particularly among underserved students across the state. The effort includes the State of Texas, the Michael and Susan Dell Foundation, the Bill and Melinda Gates Foundation and the Communities Foundation of Texas.
The proposal awards high schools $100 per student with scores of at least 90 percent on state-mandated Texas Assessment of Knowledge and Skills tests, with an increase to $200 per student considered at-risk for dropping out.
Students who complete the Distinguished Achievement Program would earn $1,000 for their schools or $2,000 for at-risk students. The rigorous program calls on students to demonstrate levels of performance equivalent to those of college students or work done by professionals. High schools would receive up to $600 per graduate.
For more information, contact the Governor's Business Council at 512-481-0525.