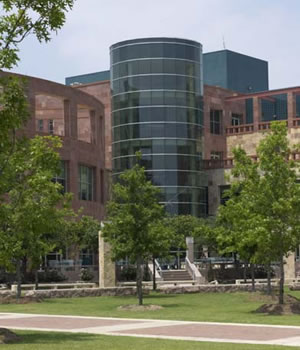 Buena Vista Street Building
Downtown Campus buildings to undergo inspection, repairs
(Jan. 6, 2004)--UTSA, through the Office of Environmental Health and Safety and Office of Facilities Services, is undertaking a thorough assessment of the exteriors of the Frio Street and Buena Vista Street buildings at the Downtown Campus. The assessment is being undertaken as a result of concerns about the exterior cladding or facades of these buildings.
---
Today's headlines
Article tools
---
The University of Texas System Office of Facilities Planning and Construction (OFPC) has engaged a specialized engineering firm to survey and inspect the buildings and provide a complete assessment of the buildings' exteriors.
Work is to start in early January and initially focus on recommending any necessary safety measures, which could include the construction of temporary barriers or scaffolding. UTSA is working closely with both OFPC and the engineering firm.
Last summer, UTSA closed the Buena Vista Street Theater in order to respond to structural problems with a beam located in that building. Repair of the beam is also scheduled to begin in January, and the resulting construction will cause classes assigned to BV 3.330 to be reassigned and a few offices and study rooms in the library to be temporarily closed while remediation efforts continue. The work necessitates the construction of a temporary exit stairway on the north side of the Buena Vista Street Building.
University administrators are working with the colleges and department heads to reassign activities in the affected rooms and minimize disruption to the campus.
For more information, contact David Gabler at 210-458-4550.