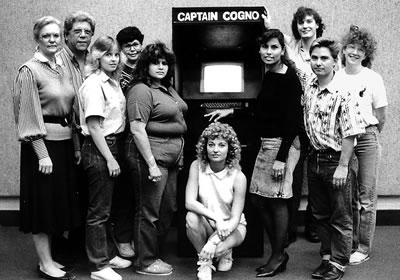 David Sebald (top left), Captain Cogno computer tutorial character
(top right) and (lower photo) Captain Cogno computer and team in
the 1980s
Computer-Assisted Instruction: Professor has used multimedia alternative to WebCT since 1981
By Dave Sebald
(March 25, 2004)--I've been beguiled by educational multimedia and CAI (Computer-Assisted Instruction) for nearly a quarter century. As far back as my 1981 dissertation1, I was using computer-controlled slides and audio to help students learn in the most efficient and effective way possible.
Perhaps because my teaching disciplines over the years -- instrumental music and later music technology -- demanded much visual and hands-on instruction, I've been drawn constantly to ever more powerful multimedia tools.
---
Today's headlines
Article tools
---
In 1983, I wrote my first music CAI program for my new Commodore VIC-20, a machine whose color and sound capabilities seemed far ahead of other platforms of the time. When I bought my first Commodore 64, I immediately made a video game console to house it, named it "Captain Cogno" and placed it in the hall of my university's music department to help students master music terminology and woodwind fingerings.
In 1985, I drove 700 miles to buy my first Amiga computer because of its stunning graphics and sound. Within a year I had incorporated that machine into a second generation Captain Cogno. Over the years I would buy four more Amigas: their interactive multimedia capabilities were simply years ahead of contemporary Macs and PCs.
When I came to UTSA in 1989, I was already deeply entrenched in teaching through computer multimedia. In the early '90s, I formed a production and consulting company, Advanced Instructional Media, to produce instructional CD-ROMs and videos. It contributed to many similar projects here on campus.
By the early '90s, I had become aware of the growing potential of multimedia instruction via the Internet. At the time I felt that if the problems of narrow bandwidth and clumsy interactivity could be overcome, the Web just might be the ultimate tool for multimedia instructional content delivery.
In the music department, we set up our first web server around 1994 -- a 70 MHz Pentium II running Linux and Apache. I immediately started exploring its possibilities for delivering multimedia instruction. It wasn't easy at the time. Although I had become fairly proficient at creating mediated tutorials for computers using media hardware and authoring software like Director, making these products interactive on the Internet demanded an entirely new set of skills. I plunged into HTML, Perl and CGI scripting and created my first truly interactive Web-based products in 1995-96.
Some of these are still in place on our music technology class Web site. Note particularly the acoustics and MIDI tutorials that use a cartoon avatar (named after the original Captain Cogno) to teach the material and help students interact with the major concepts.
Over the next five years I built an entire course delivery and management system for each of my classes. These incorporated interactive tutorials and assignment guides, exploratory supplemental materials, online quizzes and tests, automated student records, bulletin boards (since dismantled) and student Web pages through which class members could exhibit their course work. These can be reached from the following Web sites:
http://multimedia.utsa.edu/index-ca.html
http://multimedia.utsa.edu/index-at.html
http://multimedia.utsa.edu/index-ma.html
http://multimedia.utsa.edu/index-ds.html
http://multimedia.utsa.edu/index-mp.html
From the beginning, I used the students' own e-mail addresses for pupil/teacher interaction because I felt they would be more likely to see important communications there than on a bulletin board or proprietary email service.
When WebCT arrived on our campus, I already had everything that its technology offered in place in my own system. Nevertheless, I was interested in WebCT's instructional delivery potential, its security and its purported ease of use.
Perhaps here, I thought, was a way to incorporate my multimedia content into an easy-to-use envelope. I knew that creating content is hard enough; creating the delivery system is even more time consuming. Unfortunately, I found that WebCT had significant shortcomings, which made it impossible for me to use.
Chief among these shortcomings was WebCT's inability to accept interaction data from my multimedia products. Its databases remain closed to any data source created outside of its own text-based authoring system. Also annoying was the clumsy step-by-step authoring approach that WebCT forced upon its users.
The last 25 years have provided a fast and heady ride for me as an educator and a multimedia product developer. Of course, it has cost a lot of extra work to stay ahead of the curve, but I wouldn't have missed what it has given back to me for the supposed comforts of working within someone else's system.
Furthermore, I'm almost giddy about the future of instructional technology. I think that we're still only scratching the surface of what's possible with multimedia and Web-based learning. For example, my newest tutorial package incorporates a virtual teacher (me) instructing via video and audio and even interacting with students as they manipulate objects and concepts.
To experience this, go to http://multimedia.utsa.edu, open "Some Cool Multimedia Demos," and click on "Mixer Tutorial v.2." This tutorial has already taken over 100 hours of work and is still being refined, but the reward for all this effort is having a new teacher from Ohio e-mail me to ask if she can use that tutorial in her high school music tech class or in having a student in New York call last week to say it's the best tutorial he's ever seen and can he come to UTSA to study music technology. No, I wouldn't miss that for the world!
------------------------------------
Dave Sebald teaches music technology and multimedia courses at UTSA and is director of the multimedia production company, Advanced Instructional Media. He has written numerous articles and presented workshops throughout the nation on the application of multimedia technologies to all areas of education.