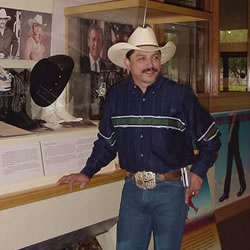 Emilio Navaira and Shelly Lares
ITC adds boots of Tejano singers to exhibit
(April 27, 2004)--Tejano performers Emilio Navaira and Shelly Lares were honored Friday at UTSA's Institute of Texan Cultures for their accomplishments as Tejano music artists and for their support of academic programs and educational endeavors in San Antonio and South Texas.
Through the efforts of San Antonio District 3 Councilman Ron Segovia, both performers are now represented by their boots, photos and biographies in "Texans: Footprints and Imprints," an exhibit on famous Texans and their shoes.
---
Today's headlines
Article tools
---
Born in San Antonio, Navaira dreamed of becoming a singer since he was a child and owned his first guitar at age six. Dominating the Tejano music scene since 1990, he broke barriers by crossing over to country music.
Among his many awards are the Latin Grammy for the Best Tejano album (four consecutive years) and Male Entertainer of the Year from the Tejano Music Association.
Navaira is involved in charities including the Tejanos for Children Foundation, the Children's Miracle Network and Santa Rosa Children's Hospital. For his contributions to these causes, Navaira received the Tejano Humanitarian of the Year award from the music industry.
Lares has performed since she was a child, singing in the church choir and at school functions. Word of her talent spread quickly, and she signed her first recording deal in 1989. She quickly positioned herself at the top of the list of female entertainers, racking up hit after hit.
Not just a singer, Lares also is an accredited BMI songwriter, producer, guitarist, drummer and percussionist.
Lares has received many Key-to-the-City honors and awards for her contributions to the community. Her numerous music awards include Best Female Entertainer and Best Female Vocalist, and she continues to entertain audiences while being a role model for young people and aspiring musicians.
The ITC is dedicated to acknowledging the contributions of all Texans. Among the 38 pairs of shoes included in the exhibit are those of other famous Texans including President George W. Bush, businesswoman Mary Kay Ash, country performer George Strait and former San Antonio Spur David Robinson.
For more information, call 210-458-2330 or visit the Institute of Texan Cultures Web site.