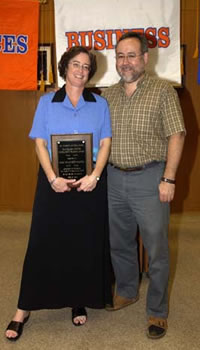 Mary McNaughton-Cassill and
Aaron Cassill
Chancellor's Council Outstanding Teaching Award: Mary McNaughton-Cassill
(April 30, 2004)--Mary McNaughton-Cassill is an associate professor of psychology in the College of Liberal and Fine Arts.
Pictured are McNaughton-Cassill and her husband, Aaron Cassill, UTSA associate professor of biology.
McNaughton-Cassill's outstanding teaching record at UTSA reflects her dedication to her students. She has achieved success by applying strong conceptual and organizational skills, and through plain hard work in preparing lectures and assignments.
She has taught in the Honors Program three times and in each case received the highest student ratings among all the exemplary faculty teaching in the program.
---
Today's headlines
Article tools
---
In addition to the regular variety of instructional contributions, McNaughton-Cassill has taken a leadership role in advancing discussion about quality teaching and learning across campus. She is frequently invited to give presentations on classroom civility and other matters of campus success, drawing on her research expertise in stress management as well as her personal experience.
She has delivered talks to fellow faculty members and students at orientations, student club meeting, the Teaching and Learning Center and commencement ceremonies. She created and filled a role as a major resource on important subjects, which will deserve our attention all the more as UTSA grows in size and complexity.
McNaughton-Cassill is at the top of the list in terms of her overall record of distinguished classroom teaching. She is a talented and tireless instructior, a lead in pedagogy and a great role model. She has gone above and beyond expectations by actively devoting herself to fostering teaching excellence university-wide.
Nine distinguished achievement awards and the Chancellor's Council Outstanding Teaching Award were presented April 28 in the John Peace Library Building Regents' Room at the UTSA 1604 Campus.