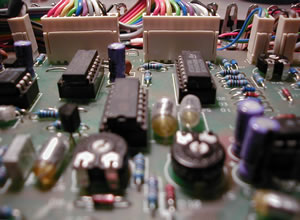 Image:
FreeImages.co.uk
UTSA, UTHSCSA team on invention project
(April 8, 2004)--UTSA and the University of Texas Health Science Center at San Antonio (UTHSCSA) recently signed an agreement that allows UTSA to tap the resources of the Health Science Center Office of Technology Ventures (OTV) to help evaluate, license and commercialize UTSA technologies.
The UTSA Office of Business Affairs is responsible for reviewing, patenting and licensing employee-created inventions. By patenting inventions, the university protects the interests of faculty, staff and students, but also the public investment in the research that created the invention.
---
Today's headlines
Article tools
---
Licensing university patents to the private sector provides a way to commercialize university-developed technologies, while providing funding for additional university research. An example of a product developed from academic research is the V-chip, which allows parents to control the TV channels accessed in their homes.
"The growth of UTSA faculty and research dollars means more invention disclosures are likely. This collaboration will ensure that UTSA will be ready to handle the increase, while leveraging existing UT System resources," said Ysabel Trinidad, UTSA associate vice president for business affairs.
The OTV will assist UTSA in evaluating the commercial potential of UTSA inventions just as it does for the Health Science Center. OTV Director Alan Dean is experienced in commercialization and new company start-ups, and Joanne Mitchell, a molecular biologist and biochemist, is the OTV licensing associate.
As the UTSA liaison and expert supporting the technology transfer program, Ruben Lopez was recently appointed business and technology development manager in the Office of the Associate Vice President for Business Affairs.
UTSA faculty, staff and students who have created inventions related to their fields of study or job responsibilities are obligated by UT System policy to disclose inventions to the university prior to public disclosure. UTSA inventors must send completed invention disclosure forms to Lopez.
Download the UTSA invention disclosure form.
The Office of Business Affairs will then forward the disclosure to the appropriate UTSA intellectual property committee for review. A disclosure is sent to outside counsel for a patentability opinion and to the OTV for a market analysis. A decision on whether or not to file a patent is based on scientific, legal and commercial assessment.
UTSA's intellectual property policy is found in the Handbook of Operating Procedures, Chapter 2, Section 2.27.
Read the UT System intellectual property policy (Chapter XII).
For more information about intellectual property, technology transfer or invention disclosures, contact Ruben Lopez at 210-458-6466.