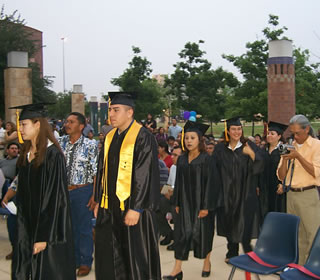 La Despedida 2003
UTSA's La Despedida graduation ceremony highlights family support
(May 7, 2004)--UTSA hosts the annual La Despedida graduation ceremony at 8 p.m. May 7 in the Radisson Hotel downtown. All spring 2004 graduates are encouraged to participate in the event, which is free and open to the public.

La Despedida, Spanish for "The Farewell," is a bilingual celebration that acknowledges the perseverance, dedication and determination that contribute to the success of students in higher education. Since 1996, UTSA students and supporting faculty have sponsored this complementary spring graduation ceremony and reception in addition to the university's official convocation.
---
Today's headlines
Article tools
---
With only a limited number of commencement tickets available to families of graduates, La Despedida offers extended families as well as friends and neighbors the chance to celebrate what may be, in light of many first-generation graduates, an historic event. Last year more than 500 students, families, community members and faculty participated in the ceremony.
Pictured is a view of the 2003 La Despedida ceremony conducted at Bill Miller Plaza on the UTSA Downtown Campus.
"This ceremony is significant not only to the students but to the greater community as well. La Despedida's mantra is 'Para mi familia, para mi raza, para mi comunidad' (For my family, for my people, for my community)," said David Mata, La Despedida planning committee chair. "Considering the many obstacles and struggles students go through to graduate, this celebration is a true coming together of all involved."

Javier N. Maldonado, executive director of the Lawyers' Committee for Civil Rights Under Law of Texas, is the keynote speaker for this year's ceremony. Maldonado is the executive director of the Lawyers' Committee, a nonprofit legal organization dedicated to protecting and defending the rights of immigrants and the refugee community on issues such as higher education, health care and equal administration of immigration benefits.

"In this country, we should enjoy the right to receive not only a fundamental education, but also a first-rate and complete one," said Maldonado. "Education should never be an obstacle."

For more information, contact David Mata at 210-834-5572.