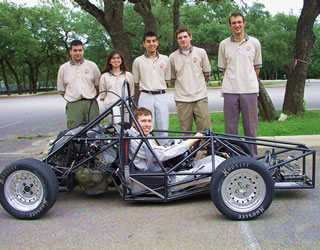 UTSA engineering students design car, race in Detroit May 19-23
(May 18, 2004)--The UTSA student chapter of the Society of Automotive Engineers (SAE) will compete in a formula car race and design competition May 19-23 in Detroit, Mich.
Pictured are (top photo from left) Tomas Gonzalez, Rae Acuna, Tony Dominguez, James Higdon, Shawn Dewey and driver Ben Schilling. In the lower photo is Ford Mustang GTR designer Camilo Pardo offering design advice to the students during an April visit to UTSA.
---
Today's headlines
Article tools
---
The 23rd annual event hosted by Ford Motor Co., General Motors Corp. and Daimler Chrysler AG, includes student entries representing more than 100 universities around the world.
UTSA's 530-lb. car was built in 90 days and contains a 600cc motorcycle engine. Students used raw materials and fabricated parts using equipment from the UTSA Power and Dynamics Laboratory on West Campus.
The competition requires four drivers to compete in a skid-pad event which tests road-handling capability, an acceleration event, a slalom event and a 30-minute endurance race, among others. The students must make presentations detailing the cost projections to produce their vehicle at a manufacturing facility, and their design is graded and critiqued by top automotive industry engineers.
"We need continuity and longevity for the program which is common at other universities," said Shawn Dewey, SAE formula car driver." I would like to see a program where a car is built every year and includes rigorous deadlines and adequate vehicle test time. "Future teams need to have the infrastructure and funding set up so that sponsors can make long-term contributions."
To fund the project and competition, the team received donations from the Brown Foundation and the UTSA Office of Research and Development, Office of Student Affairs, College of Engineering and family members.
"There have been many late nights, long hours and difficult decisions made in putting this car together," said Randy Manteufel, SAE faculty adviser. "They've gone above and beyond expectations and demonstrated a real hands-on engineering ability in building a functioning race car with a high-performance engine. I think they will be an excellent representation of UTSA and our engineering program."