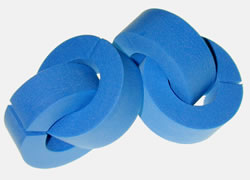 Photo:
FreeImages.co.uk
NASA renews $1 million Proyecto Access funding
(May 21, 2004)--Once again, NASA has renewed its annual $1 million funding of the Proyecto Access program based on the Pre-freshman Engineering Program (PREP) UTSA began in 1979.
The money will cover operating costs for all 10 universities hosting the program's intensive summer training nationwide. UTSA coordinates the national Proyecto Access program, as well as TexPREP in Texas.
---
Today's headlines
Article tools
---
The programs are free to participants and were designed to prepare middle and high school students for success in science, technology, engineering and mathematics (STEM).
Rudy Reyna, who coordinates the program at UTSA, said with NASA choosing to renew the program's funding, more than 1,400 students will benefit this year. "We have already received letters from parents in different parts of the country asking about the program this summer," said Reyna. "I know they will be delighted to hear the good news."
Since 1996, the highly successful program has helped more than 6,000 students, many of whom would not have ventured into STEM areas otherwise.
For more information, contact Rudy Reyna at 210-458-2072.