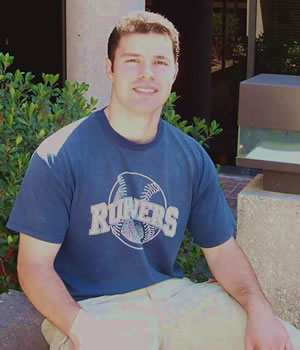 Logan Blanco and self-portrait
Commencement Close-Up: Logan Blanco
(May 7, 2004)--For 13 years Logan Blanco had two loves. At first it was easy -- splitting his time and his heart between the two. But, nothing lasts forever and the day came, as somehow he always knew it would, when he had to choose.
Still, he tried to avoid choosing. He tried devoting himself to one, while still reserving a place for the other. But, it never felt right. So, Blanco did the only thing he could do -- he walked into the UTSA baseball office and told head coach Sherman Corbett, "Coach, I can't play baseball anymore." There was only room for one love, and that love was art.
---
Today's headlines
Article tools
---
"It was hard to leave everything behind, but I'm glad I came to that realization of not playing any more," says Blanco. "Once that happened, it was incredible. I was engulfed in my art, in being able to learn and just spend hours and hours on my process, on my interests, on history, on being around professors who knew 10 times more than I did. I just became a sponge, learning and taking in all the studio courses and theories and discussions I could that year."
Since that day, Blanco has flourished as an artist, and Saturday, he will graduate from UTSA with his bachelor of fine arts degree. But to understand the artist he has become, look first to where it all began.
Blanco's father, Ricardo, was born and raised in Spain. He was the director of education services for the U.S. Army, landing in San Antonio long enough to meet Mary Jane, a department store model. The couple married. They honeymooned in Ricardo's native Spain, lived in Saudi Arabia for five years, and then settled in Holland for 17 years. The family made frequent trips back to San Antonio, making sure all three of their children were born here.
Typically, Logan, the middle child of three, wanted to do everything his older brother, Riqui, got to do. Riqui played organized sports, so as an eight-year-old Logan joined the Dutch version of Little League with an International Youth Services team. But, he wasn't always on the baseball field.
Sometimes, he was home, and at home, there were these really old paintings. They had always been there. Ricardo and Mary Jane got them on their honeymoon. Among the paintings, was a Diego Velasquez reproduction painting. It was a portrait of a princess, and suddenly a fascinated eight-year-old Logan was seeing it for the first time.
Drawn to the painting and curious about how it had been created; Blanco grabbed a pencil and a sheet of notebook paper and tried to mimic the painting. "From that moment in my living room, looking at that painting, trying to make a copy of that painting, the whole problem was already planted in my head," Blanco says. "I looked at that painting, and I knew I couldn't do that... not yet."
Blanco couldn't let go of the image of the Velasquez painting or the question of how it had been done. Art classes followed Little League.
On the baseball field, he excelled, earning an invitation to join the KMC-Germany all-star squad as a sixth-grader. Blanco didn't get to play that summer -- the season coincided with the family's yearly trek to San Antonio -- but, the team finished one win away from the Little League World Series in Williamsport, Penn. That missed shot at the World Series still gets to him. "We would have won," Blanco says.
Still, there was art. And there was an elementary school art teacher he describes as a "Georgia O'Keefe kind of woman." She was about 70-years-old and from the Bronx, and on occasion she would set up a still life for her students. "This elementary class, we did the same things I did my freshman year in college," says Blanco. "These are things you just do so you develop a hand. You have to develop a way of making marks."
In the midst of coaches and teachers, there were field trips -- amazing field trips. "The incredible thing about living in Europe was that I had access to culture, to history, western civilization," Blanco says. "I got to see works that ranged from classic renaissance sculpture, painting to surrealists. Magritte. Salvadore Dali.
I got to see the modernist abstract expressionist sculpture garden in Holland and the Van Gogh Museum in Amsterdam. I got to see stuff that was just in history books." It was there Blanco began learning there isn't just one way to make a painting, or one way to make a sculpture.
Still, he was an athlete. He was on the wrestling team and the football team. His brother had accepted a scholarship to play football back in the states at Abilene Christian. But, for Blanco it was always baseball.
He was the team captain and three-time Most Valuable Player. The season was too short though, and he augmented it with Holland's 11-tier amateur league.
A teenager, Blanco was competing with men. "(They were) 30-year-old guys who had been playing baseball at an amateur level for years," says Blanco. "They had quirks, you know. Our pitcher used to have the craziest wind-up and the weirdest delivery, but the guy could throw great pitches."
Again following his brother's footsteps, Blanco dreamed of playing college baseball. He sent highlight tapes from his games to coaches in Texas and Oklahoma. He went to baseball camps during the summers. The summer of 1998, after he graduated from high school, he spent three weeks in Italy working on a marble sculpture. Then, he left Italy for Oklahoma and the Chandler Baseball Camp.
Once camp ended, Blanco traveled to San Antonio and UTSA where he came face to face with then-head baseball coach Mickey Lashley for the first time. He had sent Lashley a tape of his games, and the two had corresponded during the past year through letters. Lashley offered Blanco a partial scholarship and with the UTSA art program in the back of his mind, Blanco accepted.
Having grown up in Holland, Blanco had never encountered anyone quite like Lashley. Tall and lanky, with a big, red moustache and a southern drawl, Lashley was unique, something Blanco says made for a lot of entertainment for the players. He remembers a time during batting practice when Lashley threw him a fastball and answered the solid drive that followed with a sinker that Blanco admits made him look silly.
"(Coach Mick) said something like, 'They don't have that pitch in Denmark. Do they Logan?' I've never even been to Denmark. I've never lived there. Logan the Danish kid -- I'm from Denmark now?"
A broken thumb kept Blanco off the field his entire second season, and by his third season he was beginning to realize art and baseball could not co-exist. He decided to put art on the backburner and go for baseball, switching his major to Spanish. Blanco thought he could teach Spanish one day and through that route teach art as well. He could still be involved in art.
"Well, the plan -- it didn't work," says Blanco. "Traveling as much as we did that season, going to Lafayette, to Baylor, to Nebraska, all those places, it really took a lot out of school. I don't know what I was thinking. I was just making it too hard for myself."
That difficult spring semester turned into a blessing in disguise, forcing Blanco to make a choice. He went back to art, and everything began to fall into place. He became president of the Student Art Guild, got work into student shows, got recognition for his work and caught the approving eye of another former athlete turned artist -- UTSA President Ricardo Romo.
Romo first saw Blanco's self-portrait in a gallery at Blue Star Contemporary Art Center and asked Arturo Almeida, the university's art consultant, to go see it as well.
"It was incredible -- what he did," Almeida says. "His palette was real strong. He was very in control of his art work. Usually, when you're going to school, especially art school, and they're throwing you all these things, and you have to find your style -- you can tell how he found his own style. You have to find that rare quality in an artist." Romo purchased the painting for the university's art collection.
Blanco has fond memories from his baseball days and still talks to former teammates. Corbett, Blanco's former coach, even has one of Blanco's paintings hanging in his home. But, there are no regrets, no dreams of fresh cut grass and dirt -- only thoughts of the next painting because these days, there is only one love.