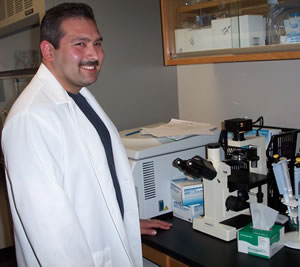 Joel De Leon
Commencement Close-Up: Joel De Leon
(May 25, 2004)--To say 34-year-old Joel De Leon has overcome adversity in obtaining his college degree is an understatement.
In the pursuit of higher education, De Leon had to deal with the death of a spouse that left him alone to care for his three children and financial struggles that cost him his home and automobile. Through it all, he says, his faith in God inspired him to stay the course.
"The Lord has been the light at the end of the tunnel that has helped get me through the storms that I have endured over the last six years," said De Leon.
---
Today's headlines
Article tools
---
He began going to school part time in the spring of 1995 and at the same time worked for the Department of Protective Services to support his family, including three young children.
Over the next three years, De Leon went to school off and on, but his bills continued to mount, liens were filed on his home and his car was repossessed. The stress took its toll on his family as his marriage suffered, his grades declined and his dreams of earning a college degree were put on hold.
With the help of family, friends and his church congregation, De Leon was able to move into a smaller home his father owned, and a car was donated to help the family. He worked three more years and considered returning to UTSA.
But in August 2001, his wife, Maria, was killed and his children were injured in a head-on collision with a concrete truck on Loop 1604. Fortunately, all three children were wearing their seat belts and eventually recovered from their injuries.
With Joel left as the sole caregiver for his children, he once again turned to his faith, family and friends. With their support, he decided to give up his job and apply for full-time financial aid to complete his degree.
De Leon returned to UTSA, and, this time around he flourished, making the dean's list for two years and giving presentations at national neuroscience conferences. He also found a job in the UTSA Health Professions Office where he helped students apply to medical and dental schools.
With his academic life back on track, De Leon's family life also was blessed when he married his new wife, Sabrina, whom he had known for many years as a member of his church.
After beginning his college career nine years ago, De Leon this month earned his degree in interdisciplinary studies with a concentration in biology. He plans to pursue a master's degree to study cell and molecular biology at UTSA and hopes to teach at the college level.