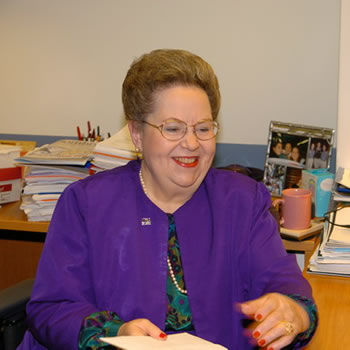 Patricia Graham receives her award announcement.
Order of the Roadrunner Award: Patricia Graham
(May 27, 2004)--Patricia Graham, executive director of the special events center, will be honored Friday, May 28 with the Order of the Roadrunner Award, one of five that will be presented at the UTSA Staff Excellence Awards ceremony.
UTSA Tri-Campus staff members are invited to attend the event hosted by President Ricardo Romo at 2:30 p.m., Friday, May 28, in the University Center Retama Auditorium (2.02.02) at the 1604 Campus.
The Order of the Roadrunner Award is presented to an individual who demonstrates exemplary service and commitment to UTSA and the achievement of its goals. The award is the highest honor a UTSA staff member can receive for his or her dedication to the UTSA community.
Winners of the award have improved the work environment by increasing productivity, motivated co-workers and instilled pride in UTSA. They are service oriented and display extraordinary creativity and innovation. This leader is reliable, dedicated and committed to UTSA goals.
The five Staff Excellence Awards recognize excellent work performance in emerging leadership, dynamic leadership, teamwork, extraordinary initiative and overall excellence. A monetary award of $1,000 accompanies each Staff Excellence Award, with the award money divided among recipients of a group award. Staff Excellence finalists were chosen by an 11 staff-member committee, which reviewed 93 nominations.
The Staff Excellence Awards are the Rising Star Award, Leadership Award, Team Spirit Award, Extra Mile Award and Order of the Roadrunner Award.
------------------------------
Patricia Graham
Order of the Roadrunner Award winner
We at UTSA Today feel no words could convey the magnitude of Pat Graham's contribution to this university better than the ones John Kaulfus wrote as part of her nomination.
April 22, 2004
Dear Selection Committee:
It is my sincere honor to write this letter of recommendation on behalf of Dr. Patricia A. Graham for the UTSA Staff Excellence Order of the Roadrunner Award. I have had the privilege of working with Dr. Graham for the past three years, and I have learned so much from her during that time.
During the past 29 years, no staff member has given more to this university than Dr. Graham. She is UTSA's resident living legend. Students, faculty and staff would all agree that she represents the finest that UTSA has to offer.
I am sure many of the other letters of recommendation will detail all of Dr. Graham's accomplishments and honors. I, instead, would like to focus on Dr. Graham, the person.
Dr. Graham has the rare ability to demand the best from her students and co-workers without being demanding. She is a role model at all times, and I have never seen her become cross or impatient with an overprotective parent or an upset student. She is gracious and refined at all times, but she never loses the "human touch."
She is always friendly and accessible, but never common or too familiar. She is a lady at all times without ever compromising her integrity.
In today's hectic world of fast food and convenience at all cost, Dr. Graham reminds us all that style and manners are important, and they count. Most importantly, Dr. Graham teaches this to her students every day. Students, faculty and staff are all better for having spent quality time with Dr. Graham.
Educators like Dr. Graham only come along every few generations. It is our duty to honor these people and hold them up as an example to future educators and citizens.
Respectfully,
John Kaulfus
Executive Director, University Center and Student Activities