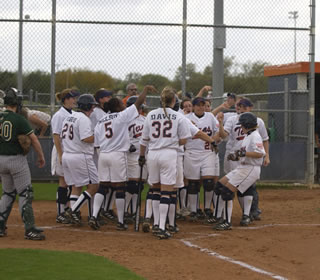 UTSA softball team
Roadrunners earn berth in May 20 NCAA softball regional
(May 19, 2004)--For the second time in 2004, the Roadrunners have played their way into the national spotlight. Having claimed a 27-15 record and both the Southland Conference regular season and tournament titles, the UTSA softball squad earned a berth in an NCAA Regional for the first time in school history.
---
Today's headlines
Article tools
---
The Roadrunners will make their first regional appearance as the seventh seed in the Waco Regional (download the bracket as a pdf file readable in Adobe Reader) where they will face second-seeded Illinois (41-19-1) at 12:30 p.m. Thursday, May 20 at Getterman Stadium.
The meeting with Illinois will be the first in UTSA softball history, but not the first in UTSA play-off history, as the men's basketball squad met the Fighting Illini in the first round of the 1988 NCAA Tournament.
The Roadrunners have won 10 consecutive contests and 22 of their last 23 games, while leading the nation in home runs with 101.
There are 64 regional teams at eight sites with the winners from each site advancing to the College World Series in Oklahoma City.
Read more about the NCAA Softball Tournament.