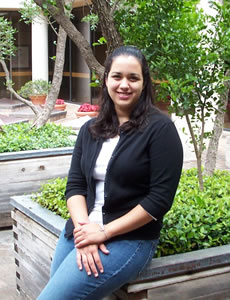 Claudia Trevino
Commencement Close-Up: Claudia Trevino
(May 6, 2004)--Life for Claudia Trevino has been about big moves. The Rio Grande City history major and international studies minor, made her first big move when she came to UTSA, four hours from her home 45 miles up-river from McAllen.
It's common for residents of her Texas border town to speak Spanish and English, but Trevino also would become fluent in Japanese. When she came to UTSA, she didn't imagine she would learn another language, study abroad for a month in Japan in the summer of 2003 or that the experience would lead to her goal of living and teaching there.
---
Today's headlines
Article tools
---
Trevino's walk across the stage Saturday to receive her bachelor's degree is the lead-in to her next big move. After recently being accepted into JET, a Japanese government-sponsored program that recruits American graduates, she will teach English in Japan this fall. She doesn't know which grade level she will teach, or whether it will be in a big city or village, but it doesn't matter.
"I just want to embrace the experience of living in another country and really getting to know Japan and the people, since it might be my only chance," said Trevino. "And I want to tell them about life and culture in the Valley. I will leave July 23 for at least one year, but hopefully three or four."
Her mother, a first-grade teacher who has never left Texas, may visit if she can be convinced to make the long trip across the Pacific. "I'm working on that," Trevino added.
Three years ago, Trevino took the course Elementary Japanese I under Nobuko Fujita, UTSA lecturer in modern languages and literatures, and after four classes she was proficient in Japanese. It wasn't easy. First, she mistakenly registered for Elementary Japanese II and had to wait until someone dropped the introductory course because it was filled. She was able to enroll on the last day to add a class.
"Professor Fujita was really supportive," Trevino said. "It's amazing what a good teacher can do. She was always there and always telling us about Asian festivals and encouraging us to look at different things and pointing us to research about Japan. She even told us about a Japanese baseball team that was playing here in San Antonio and we all went to the game."
Trevino participated in the 2002 Texas Japanese Speech Contest and again in 2003, when she won sixth place.
"I was much better prepared for the 2003 competition," said Trevino. "The speech could be on any topic, but I described my experience in Japan. After the trip, I knew I wanted to go back, and it was the inspiration for the speech."
In the speech delivered in Japanese, she described learning to read street signs, doing laundry in a tub in a public laundry, the supportive and protective family she lived with, and "getting used to the friendly deer in the park who ate sandwiches out of your pocket."
"I just want to give back to the people that were so friendly and supportive," Trevino said. "Teaching children about my country will be a good way to do that."
"Claudia is very responsible, cheerful, considerate and studious," said instructor Nobuko Fujita. "I am very happy and proud that her dreams have been realized and hope that she will have a wonderful time in Japan."