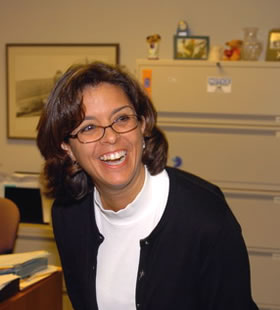 Sandra Wenzel is surprised with the
notification of her award.
Extra Mile Award: Sandra Wenzel
(May 27, 2004)--Sandra Wenzel, program manager for graduate studies and research, will be honored Friday, May 28 with the Extra Mile Award, one of five that will be presented at the UTSA Staff Excellence Awards ceremony.
UTSA Tri-Campus staff members are invited to attend the event hosted by President Ricardo Romo at 2:30 p.m., Friday, May 28, in the University Center Retama Auditorium (2.02.02) at the 1604 Campus.
The Extra Mile Award is presented to an individual who sees the big picture, is flexible, exhibits motivation, accepts responsibility and has improved departmental efficiency through creativity and innovation. This person tackles problems, finds solutions and sets an example by leading the way.
The five Staff Excellence Awards recognize excellent work performance in emerging leadership, dynamic leadership, teamwork, extraordinary initiative and overall excellence. A monetary award of $1,000 accompanies each Staff Excellence Award, with the award money divided among recipients of a group award. Staff Excellence finalists were chosen by an 11 staff-member committee, which reviewed 93 nominations.
The Staff Excellence Awards are the Rising Star Award, Leadership Award, Team Spirit Award, Extra Mile Award and Order of the Roadrunner Award.
------------------------------
Sandra Wenzel
Extra Mile Award winner
The eight letters the Staff Excellence Awards committee received nominating Sandra Wenzel for the Extra Mile Award were not simply touting an employee who does her job well.

Wenzel, the program manager for the College of Business doctoral program, designed, implemented and now manages the application, admission and student records processes for the program. With no precedent set before her, Wenzel has taken on the responsibility of creating the programs she manages.

More important than the skilled handling of massive amounts of paperwork, Wenzel has added a human touch appreciated by both faculty and students. Research Assistant Alexander McLeod listed a variety of specific moments when Wenzel went the extra mile, noting she spent a Saturday emptying printer paper boxes so the previous dean of graduate studies could use the boxes to move to a new office the following Monday. Wenzel often brings food to the doctoral students' office knowing they would be working late or on weekends and would appreciate a cookie or sandwich.

Writes doctoral student Craig Armstrong, "Sandy has been our champion and facilitator with the Office of Graduate Studies and the university since the beginning of the College of Business doctoral program in business."

Wenzel's dedication has drawn other offices to seek her advice, frequently asking her for assistance in developing management procedures in other offices -- a request Wenzel always honors despite her own heavy workload.
Her willingness to help extends outside the office as well. One doctoral student wrote to the committee to tell of her move to San Antonio before beginning the program. Wenzel used her lunch hour to drive the student around town, showing her nearby apartments to help her get settled.

The Extra Mile Award is about initiative, creativity, innovation and dedication. Wenzel has exemplified all these traits and done it with a smile.