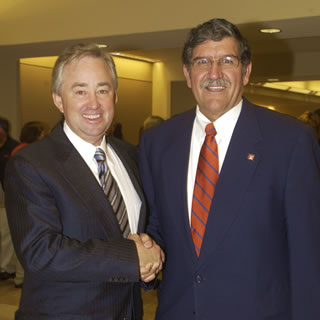 Photos: Patrick Dunn
UTSA unveils vision to move into premier ranks
(July 30, 2004)--Already one of the fastest-growing major universities in the U.S. and a leader in providing access to higher education for Hispanics, The University of Texas at San Antonio today unveiled details of a plan to elevate the institution over the next decade into the ranks of the premier research universities in the nation.
During a celebration of UTSA's 35th anniversary with UT System Board of Regents Chairman James Huffines, UTSA President Ricardo Romo outlined a far-reaching plan that will add research faculty recruited from top-tier institutions to dramatically increase the number of doctoral programs and research centers at the university.
---
Today's headlines
Article tools
---
Pictured in the top photo are (from left) Texas Senators Jeff Wentworth, Leticia Van de Putte and Judith Zaffirini with Romo. The senators brought a congratulatory message from Gov. Rick Perry. In the lower photo are Huffines and Romo at a reception after the program.
In the growth process, UTSA's tenure and tenure-track faculty of 450 will more than double. According to Romo, the initiatives are designed to drive a research agenda critical not only to UTSA but to the economic potential of San Antonio and the region.
UTSA should see enrollment pass 26,000 in the coming academic year, compared to 18,000 students just five years ago, Romo said. To accommodate future growth UTSA will embark on a building program surpassing $500 million.
"As one of the youngest institutions in the 15-member UT System, UTSA has made remarkable progress in only 35 years," Romo said. "Over the next decade, this new vision will transform UTSA into the premier research university that the eighth-largest city in the country deserves."
"As a result, we're seeing that UTSA is now in a position to compete for the finest faculty in the country, which is critical to developing the programs and attracting the research funding and the top-level doctoral students that corporations seek. At the same time, we are introducing new programs to help us maintain our commitment to participation and access. We have succeeded in improving retention and graduation rates and we will continue to work for the success of our students -- to help Texas and San Antonio close the educational gaps that impede economic and social progress," Romo said.
"Thirty-five years is not a long time in the life of an educational institution, yet, in these 35 years, UTSA has established itself as a vital part of life in San Antonio and an important contributor to the economy and the future of South Texas," said Huffines. "In five short years, President Romo has done an outstanding job for this university, building on its strengths, encouraging it to improve and making it a source of hope and pride for this community. He is a creative, energetic and inspiring leader and one we are grateful to have in the System and in San Antonio."
------------------------------
Specifics of the university's "Roadmap to Excellence" initiative include:
Hiring 600 new faculty -- 75 a year for 8 years; faculty will then total more than 1,000.
The creation of 10 distinguished chairs, each funded at $1 million; 3 chairs funded at $500,000 each and 2 distinguished professorships funded at $250,000 each.
Adding two doctoral programs a year over 10 years to the existing 12 programs to reach a total of 32. A physics doctorate will be offered in partnership with San Antonio's Southwest Research Institute, the first partnership of its kind established in Texas.
The creation of 3 new research centers including the San Antonio Institute for Cellular and Molecular Primatology, the Institute for Aging Research and the Institute for Bioengineering and Translational Research.
A building program set at more than $500 million to fund laboratory and classroom space, and student housing and support. For example, the $83.7 million, 227,000-square- foot Biotechnology, Sciences and Engineering Building scheduled to open in 2005 is expected to be one of the largest science-related educational facilities in Texas with additional phases planned for 2007 and 2009.
Recruiting top-level faculty including six new faculty members collectively bringing more than $6 million in external research funding to UTSA. The six were tenured full professors at institutions such as Case Western Reserve, Johns Hopkins, the Medical College of Ohio and the University of Georgia.
A total of nearly 1,000 doctoral students at UTSA by 2010.
In addition to Southwest Research Institute, the expansion of key partnerships with Southwest Biomedical Foundation, the University of Texas Health Science Center at San Antonio and San Antonio's military bases. Such collaboration is critical to attracting top-level faculty who can receive joint appointments at partner institutions, and to creating research centers that can compete on a national level for research funding.
Student life initiatives including projects that enhance the campus environment, athletic programs and student services -- all designed to contribute to the retention and success of UTSA students.