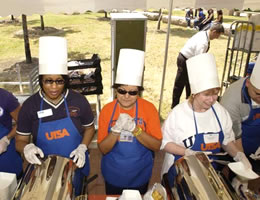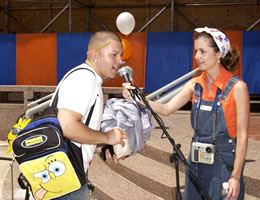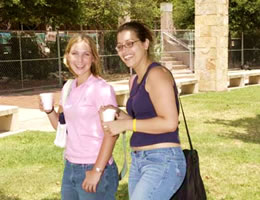 Photos by Tina Luther (top left photo) and Patrick Ray Dunn (other photos)
Close-up: Week of Welcome at the UTSA Downtown Campus
(Aug. 26, 2004)--UTSA community members gathered Wednesday at Bill Miller Plaza on the UTSA Downtown Campus to enjoy lunch served by faculty and staff.
As part of UTSA Week of Welcome events, there were free hot dogs, Frito pie and sodas for all. A similar gathering was at Sombrilla Plaza on the 1604 Campus.
Pictured at the Downtown Campus are (top left) UTSA President Ricardo Romo greeting students, (top right) UTSA faculty and staff serving lunch, (bottom left) Michelle Montanio, assistant director of student leadership and cultural programs, giving a prize to a drawing winner and (bottom right) students finding some shade after enjoying lunch.
Week of Welcome events continue through Tuesday, Aug. 31. See the full WOW schedule.