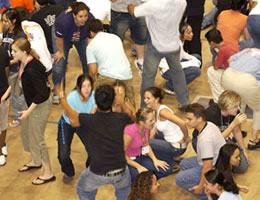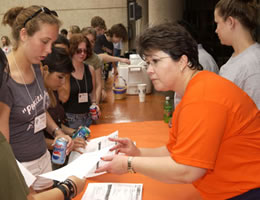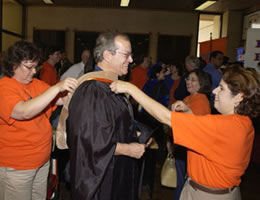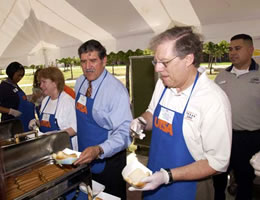 A Final Look: UTSA Week of Welcome 2004
(Aug. 30, 2004)--The UTSA community opened the Fall 2004 semester last week during Week of Welcome events with free hot dogs, barbeque, soda and other refreshments at the 1604 and Downtown campuses, along with new student orientation sessions and activities on Monday and Tuesday during Rowdy Days.
Pictured at the 1604 Campus are new students (top left) in the Convocation Center during an ice-breaker activity, College of Engineering Dean Zorica Pantic-Tanner (top right) welcoming new engineering majors, a College of Sciences information table (center left), a staff member assisting students (center right), staff member Ed Braswell (lower left) being robed for the Fall Convocation and at the Downtown Campus (lower right, from left to right) Associate Professor Harriett Romo, President Ricardo Romo and Vice Provost Richard Diem serve lunch.
Week of Welcome events continue through Tuesday, Aug. 31. See the full WOW schedule.