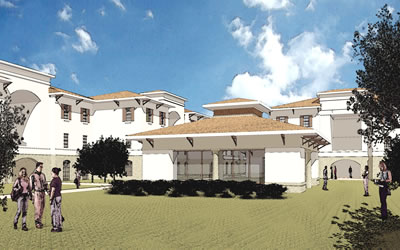 New housing rendering, 1604 Campus
Board of Regents approves UTSA expansion, degree proposals
(Aug. 12, 2004)--The UT System Board of Regents today gave final approval for plans to expand the footprint of the UTSA Downtown Campus, along with two new degree programs and construction projects at the 1604 Campus.
"Rapidly increasing enrollment demonstrates the need for the university to expand the space at the Downtown Campus," said UTSA President Ricardo Romo. "The Board of Regents' approval of expansion at UTSA demonstrates the board's commitment to expanding access to higher education in Texas. This support is crucial to UTSA as we move to become a premier research university."
---
Today's headlines
Article tools
---
The meeting, conducted at the M.D. Anderson Cancer Center in Houston, included approval for additional construction of UTSA student housing facilities on the 1604 Campus to be completed April 2007 and expansion of the UTSA recreation, health services and child development centers to be completed July 2007.
As recommended by UT System Chancellor Mark Yudof, the board also endorsed proposals for UTSA master of science and doctor of philosophy degrees. UTSA will establish the degrees after approval by the Texas Higher Education Coordinating Board.
The M.S. and Ph.D. degrees in physics will be offered by the Department of Physics and Astronomy in the UTSA College of Sciences in collaboration with the Southwest Research Institute (SwRI) Space Science and Engineering Division.
The programs are designed to prepare graduates to make significant contributions to the evolution of space technologies and research, the nation's biomedical infrastructure and the rapidly advancing scientific and technological capabilities in the city, region, state and nation.
Students will have the opportunity to participate in a process of development, testing and integration of instrumentation for space science missions, an area in which SwRI has played a leading role for decades.