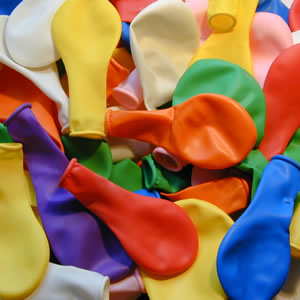 Photo:
FreeImages.co.uk
Kudos! To UTSA's brightest and best
(Sept. 10, 2004)--Kudos! acknowledges UTSA faculty, staff, students and alumni for all the things they do -- whether it's achieving great things in work, education and community service, receipt of a well-deserved award, publication of a book or article, recognition for respected research findings, or daily dedication and hard work.
---
Today's headlines
Article tools
---
E-mail Kudos! items to UTSA Today.
------------------------------
Students
UTSA junior Dolores Johnson recently was the winner of free books for the fall semester in a drawing at the Downtown Campus bookstore. Johnson had not purchased any of her books and was excited to receive the prize.
Dhireesha Kudithipudi, a UTSA Department of Electrical Engineering doctoral student, presented her research work in July at the 47th IEEE International Midwest Symposium on Circuits and Systems in Hiroshima, Japan. Her presentation, "Cache Leakage Power Analysis of Embedded Applications," was an invited paper. The research focuses on identification of potential targets to minimize power leakage in embedded systems. The conference is among the oldest and most prestigious international symposia in its field.
Kathy Laverdiere, a graduate student in the College of Education and Human Development (COEHD) adult and higher education program, was recently honored by the U.S. Office of Personnel Management as a Presidential Management Fellow (PMF) finalist. The Presidential Management Fellows Program began in 1977 to recruit top-level master's- and doctoral-level students for management positions in the executive branch of the federal government.
Laverdiere joined 700 other finalists in April at a job fair in Washington, D.C., where she found a position as a human resources specialist with the Office of Personnel Management, Division for Human Capital Leadership and Merit Systems Accountability. She hopes to return to Texas and positively impact social and educational policies.
Faculty and Staff
Shirley Boteler-Mock, researcher at the Institute of Texan Cultures (ITC), received recognition from the Seminole Indian Scout Cemetery Association for her efforts in securing a certificate of acceptance, which includes the cemetery site in the National Park Service National Underground Railroad Network to Freedom. Acquiring the certificate serves as a significant contribution to the understanding of the Underground Railroad in American history.
Anne Englert recently accepted the newly established position of assistant director of university center events management. Englert was formerly coordinator of special programs in the UTSA Office of Student Leadership and Cultural Programs.
Suzy Gray, UTSA director of campus recreation, recently completed her Ph.D. in educational administration at UT Austin. Her dissertation is titled "Gender Equity at NCAA Division I-A Institutions."
Russell Greaves, archaeologist with the Center for Archaeological Research, was awarded grants from the Wenner-Gren Foundation for Anthropological Research and the Smithsonian Institution for investigations of museum collections made among the Pume Indians of Venezuela.
Rosalind Horowitz, professor of discourse and literacy studies in the UTSA College of Education and Human Development, was invited to contribute to doctoral dissertation meetings after having taught a graduate seminar on "Critical Issues in Literacy Development of the Urban, At-Risk Learner." Horowitz was a visiting professor in the Department of Human Development and Applied Psychology at the University of Toronto Ontario Institute for Studies in Education.
David M. Johnson, UTSA assistant professor of chemistry, was awarded $293,564 from the Army Research Office/Department of Defense for his research to investigate the "Fundamentals of Radical Copolymerization: Do Penultimate Units Exert an Electronic Effect on Propagation Kinetics?"
Zorica Pantic-Tanner, dean of the UTSA College of Engineering, and Dan Dimitriu, San Antonio College engineering coordinator, presented a joint paper in July in the workshop "Enhancing Community College Pathways Into Engineering Careers." The workshop was a collaborative effort between the Committee on Engineering Education of the National Academy of Engineering (NAE) and the Board on Higher Education and Workforce of the National Research Council (NRC). The workshop provided information on the evolving role of community colleges in engineering education and enhancing partnerships in engineering education between community colleges and four-year institutions.
Francine Romero, UTSA associate professor in the College of Public Policy, was recently elected by the San Antonio City Council as one of two new members on the San Antonio Planning Commission.
Jude Valdez, UTSA vice president for extended services, was recently awarded the Small Business Administration's (SBA) District Director Award in recognition of his service to small business in the San Antonio area. Valdez is founder of the South West Texas-Border Region Small Business Development Center program, which operates 10 small business assistance centers throughout South Texas. He chairs the SBA national advisory board in the Small Business Development Center program and is a Fellow of the National Association for Small Business and Entrepreneurship.
Alumni
Don Philbin, who received his M.B.A. from UTSA, was named president of Billing Concepts, Inc., an industry-leading provider of outsourced billing and collection clearinghouse services to the U.S. telecommunications industry. Philbin has more than 15 years of experience and leadership in the telecommunications industry. He earned a B.A. degree from Trinity University and a juris doctorate from Pepperdine University.
University Communications
Contact Us