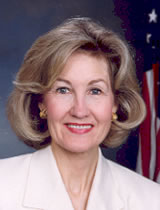 Sen. Kay Bailey Hutchison
UTSA, S.A. groups receive $5.5 million in education grants
(Sept. 27, 2004)--The University of Texas at San Antonio and two San Antonio organizations will share more than $5.5 million in No Child Left Behind grants for efforts to recruit and retain highly qualified teachers for high-need schools, U.S. Secretary of Education Rod Paige announced recently.
UTSA was awarded $1,653,895; the Education Service Center, Region 20 received $1,693,002; and Intercultural Development Research Associates was awarded $2,239,365.
---
Today's headlines
Article tools
---
"President Bush and I believe that all children, regardless of the location of their school, deserve to learn from highly qualified teachers," Paige said. "These grants support efforts to provide alternative teacher certification, thus encouraging talented individuals to say 'yes' to a rewarding teaching career."
"I am pleased we were able to help secure these funds for UTSA and San Antonio," said Sen. Kay Bailey Hutchison, R-Texas. "These grants will help support continuing efforts to reach out to students in high-need areas of South Texas."
The Transition to Teaching program supports efforts to recruit talented mid-career professionals and recent college graduates to teach in high-need schools through new, alternative certification routes. This year, the program will award 32 grants worth $18.3 million in 13 states and Washington, D.C.
Data shows there is a critical need for teachers in areas such as math, science, foreign languages, English as a Second Language, reading and special education. This is especially true in rural and urban districts.
In addition to developing alternate routes to the classroom, this year's grantees also will work to streamline hiring timelines and procedures. A recent study found that many talented individuals were discouraged from teaching in high-need areas because their applications weren't responded to in a timely manner by the school district.
The No Child Left Behind Act is the bipartisan landmark education reform law designed to change the culture of America's schools by closing the achievement gap among groups of students, offering more flexibility to states, giving parents more options and teaching students based on what works. Under the law's strong accountability provisions, states must describe how they will close the achievement gap and make sure all students achieve academically.
For more information about the No Child Left Behind Act, contact Susan Aspey at 202-401-1576.