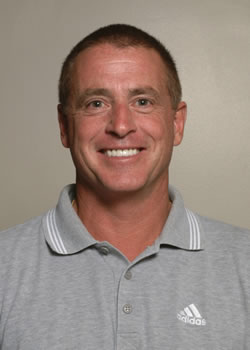 Steve Ballard
UTSA names first women's soccer coach
(Jan. 31, 2005)--Steve Ballard, who led Eastern Illinois University to four consecutive appearances in the NCAA Division I College Cup, has been named the first head coach of UTSA's new women's soccer program.
UTSA women's soccer program recruiting begins immediately, but team competition will not begin until the 2006 season.
---
Today's headlines
Article tools
---
Ballard, who started the highly successful Panther program in 1995 and also launched programs at Averett University and Elon University, has more than 25 years of soccer experience and is in the top-40 among active Division I coaches in career victories. He is also nearing the NCAA top-50 list for all-time coaching victories.
"We interviewed five outstanding candidates, but Steve separated himself from the group with his dynamic personality and the unparalleled success he has enjoyed at the Division I level," said UTSA Associate Athletic Director and senior woman administrator Elizabeth Dalton, who oversaw the search process. "The history of academic success by his student-athletes and his ability to build championship programs were the exact combination we were looking for to be the first head coach in UTSA women's soccer history."
"I am sad to be leaving these players, my fellow EIU coaches, and staff and friends at an excellent university and in the Charleston community, but I am extremely excited to be making this move to UTSA and to be afforded this great opportunity," said Ballard. "I was tremendously impressed with the staff, coaches and administrators and the direction that (Athletic Director) Lynn Hickey and Liz Dalton are taking with the athletic program at UTSA. I was also very comfortable with the San Antonio community. I will work my hardest to make this an exceptional program quickly."
In 10 years at EIU, Ballard compiled a 126-66-13 record, averaging 12 wins a season, and put together nine consecutive seasons of at least 10 victories. He also oversaw a complete move into the Ohio Valley Conference (OVC) in 1999 after EIU had held dual membership with the Missouri Valley Conference during the 1998 season. Within just a year of starting the EIU program in 1995, Ballard had built the Panthers into a regional powerhouse in Charleston, Ill., compiling a 16-5 record in 1996. He continued to build upon his early success and led EIU to its first OVC regular season title in 1999 with a 12-9 record, beginning a string of six consecutive conference championships for Ballard.
The Panthers claimed the OVC regular season title in 1999 and 2000 and won the tournament championship in 1998 and each season from 2001-2004, while advancing to the NCAA College Cup in 2001-2004. Ballard was named OVC Coach of the Year in 2000 after the Panthers compiled a 15-4-1 record. The following year, he guided EIU to a 14-6 record and the OVC tournament title. Last season, Ballard led the Panthers to a 13-5-2 record as they led the league in shots, goals, assists, points and corner kicks. Since joining the OVC, Ballard's squads went 33-4-3 (.857 winning percentage) in regular season league play and constructed a 10-1-1 (.869) record during the conference tournament.
Included in his team's unprecedented success were numerous individual honors, including 45 all-OVC accolades and three OVC Player of the Year and Freshman of the Year awards. In addition, his players earned seven NCAA Great Lakes Region all-America honors as the Panthers perpetually ranked among national leaders in offense and defense.
Ballard also put a high standard on academics and it was evident by the fact that his team combined for the highest GPA of any sport at EIU from 2001-2003. The Panthers were also awarded an NSCAA/Adidas Team Academic Award, for having a team GPA above 3.0, every year from 1997 through 2004, while three players earned the OVC Medal of Honor for women's soccer in 2003.
Prior to his success at EIU, Ballard was the head women's and men's soccer coach at Averett University in Danville, Va., from 1990-1994. He also was an evaluator for the Virginia Olympic Development Program (ODP).
Starting in 1978, Ballard was the head men's and women's soccer coach at Elon University in Elon, N.C. In 10 years as head men's coach, Ballard's teams won the Carolinas Conference championship three times and finished second on three other occasions. He compiled a 106-69-16 record, and Elon qualified for the NAIA playoffs nine of the ten years.
Ballard's women's teams at Elon advanced to the NAIA East Regional all three years and ranked among the top 10 nationally each season. During his stint at Elon, he was named Carolinas Conference Coach of the Year and NAIA District 26 Coach of the Year. From 1982-88, Ballard was the state coach for the North Carolina ODP.
He graduated with a bachelor of science degree in physical education from SUNY-Cortland in 1974 and completed a master's degree in physical education at the University of North Carolina in 1977. While at Chapel Hill, Ballard was an assistant coach for the Tar Heel program.
"We decided on Steve from an excellent list of candidates because he was in the same position at Eastern Illinois in starting a new program in 1995, and he has now led them to be the top program in their conference as well as an NCAA Tournament team," said Lynn Hickey, UTSA director of athletics. "We are very pleased that he has accepted the position."
Seeking to have a competitive team from the start, UTSA also decided to hold off actual team competition until the 2006-07 season.
"Throughout the interview process coaches across the country continued to tell us that it was in our best interest to begin putting the program together now, but wait until 2006 to begin competing," Hickey said. "Because the soccer recruiting calendar is already well underway, we feel our program will be best served in waiting an additional year to compete. We will begin signing student-athletes immediately, and those student-athletes will have the chance to begin school, train and learn coach Ballard's style of play. We will also be in contact with our existing club team on campus and those student-athletes will also have the opportunity to try out for our team."
For more information, contact Rick Nixon at (210) 458-4551 or Matt Schabert at (210) 458-4930.