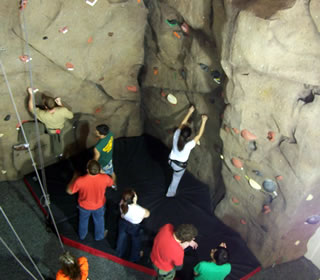 Students scale the new climbing wall.
(Photos by Leigh Anne Gullett)
Climbing wall opens at UTSA recreation center
(Jan. 25, 2005)--The UTSA Campus Recreation Center is now home to the tallest climbing wall at a university in Texas.
The new wall stands at 54 feet with routes for every level of climber. The wall also has a short portion offering lateral climbs for training, known as a bouldering area.
"The bouldering area is an awesome area for training, learning different moves and how to balance your weight," says Megan Alexander, assistant director for outdoor pursuits.
---
Today's headlines
Article tools
---
The wall offers a full-body workout for climbers, who use their legs just as much as their arms. "It's pretty strenuous," says Alexander. "A lot of times when people start climbing, it motivates them to get in better shape overall."
For the first few weeks of the semester, Rec Center staff will belay (to secure a person at the end of a rope, or to secure a rope to a person or object) climbers. Meanwhile the Rec Center is offering free belay clinics to train anyone interested in rock climbing. Eventually, anyone using the climbing wall will need to be belay certified. Students can sign up for the belay clinics at the Rec Center control desk.
Novice climbers can still join the fun with free climbs on selected Friday nights when the staff will once again belay climbers. A belay-certified climber also can sponsor those with no experience. There is a foam-rubber pad in the bouldering area in addition to a crash pad at the foot of the wall.
Climbers can check out equipment at the Rec Center or bring their own as long as it has been checked for safety by Rec Center staff.
Check out the Rec Center Web site for climbing wall hours and look for rock-climbing trips offered through the outdoor pursuits program.
For more information, contact Megan Alexander at (210) 458-6565.