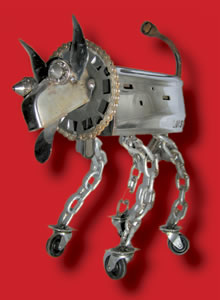 Sculptures by Luis Guerrero
UTSA sponsors sculpture exhibit made from chrome car bumpers
(Jan. 21, 2005)--The University of Texas at San Antonio, the Secretaria de Relaciones Exteriores, the Consulate General of Mexico in San Antonio and the Instituto de Mexico present a sculpture installation by Luis Guerrero, "Vida de Perro de Otro Mundo (The Life of a Dog from Another World)," from Jan. 27 to March 6 at the Instituto de Mexico Casa Mexicana, 600 HemisFair Park.
An opening reception, free and open to the public, is 7-9 p.m., Thursday, Jan. 27. Exhibit hours are 10 a.m.-5 p.m., Tuesday-Friday.
---
Today's headlines
Article tools
---
The exhibit, curated by UTSA art specialist Arturo Almeida, features 15 dog sculptures in installations with dog houses, plants, bones and food dishes to provide a complete picture of a dog's life. The one-of-a-kind sculptures by Guerrero are constructed from chrome car and truck bumpers, chains, tire tools, hammerheads and other metal parts found by the artist or bought in junkyards.
A San Antonio native, Guerrero combines his understanding of the Mexican-American community with his talent to breathe life into scrap metal, transforming thoughts, myths and memories into original art sculptures.
"My first piece 15 years ago was modeled after my dog, Chester," said Guerrero. "I buy the bumpers and then saw and weld the metal to make the sculptures. They look like they are from outer space or another world."
He says old Chevrolet vans and trucks have the best chrome for his purposes. Each sculpture is slightly more than a foot high and a foot long. The legs are made of chains and each sculpture is on casters. Two of Guerrero's sculptures are part of the UTSA art collection on display in the Durango Building Southwest Room at the Downtown Campus.
Guerrero works out of his Ay Chispas studio in Southtown at 1913 S. Flores St. ("Ay Chispas" is Spanish for "Ouch, sparks!") Gallery hours are 10 a.m.-4 p.m., the second Saturday each month. For more information, contact Guerrero at luis@aychispas.com or (210) 885-4257.
For more information about the Casa Mexicana exhibit, contact Arturo Almeida at (210) 458-4101 or the Instituto de Mexico at (210) 223-5100 or (210) 212-6333.