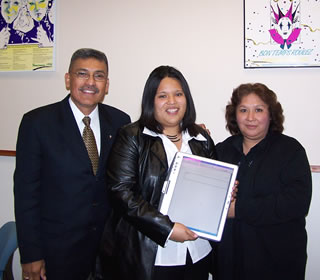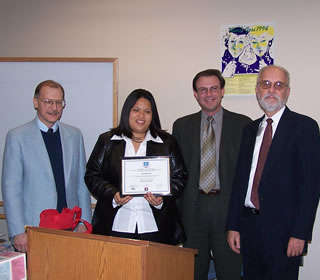 Top photo: Barrientez (holding her new computer) with parents;
Lower photo (from left): Moder, Barrientez, Kennedy and Noyes
Photos: Tim Brownlee
UTSA fall graduate wins computer award
(Jan. 6, 2005)--Jessica Barrientez, a December graduate of the UTSA College of Education and Human Development, is the fall semester winner of the UTSA Office of Information Technology Laptop Award.
Barrientez, who was selected from December graduates of the UTSA Academic Development Program (ADP), received a commemorative certificate, a Gateway laptop computer, a printer, software and a carrying case. Sponsored by the Hispanic Association of Colleges & Universities (HACU) and Gateway, the award is given each spring and fall semester.
---
Today's headlines
Article tools
---
"UTSA helped me believe in myself," said Barrientez. "Now that I have my teaching degree, I want to give back what UTSA gave to me by being a teacher. My dream of being an elementary teacher will finally come true. I thank HACU and Gateway for helping to make this possible."
Barrientez participated in the renowned Prefreshman Engineering Program (PREP) before coming to UTSA. Her parents, Johnny and Lucy Barrientez, and her aunts, Grace Leos and Melinda Barrientez, accompanied her at the Dec. 15 ceremony.
ADP students are initially accepted at UTSA as provisional students; ADP helps those students achieve academic success. A committee led by Rodriguez selected ADP students with GPAs of 2.5 and above as award finalists. Finalists were asked to submit resumes detailing their academic and work experience, and UTSA and community activities.
An early childhood education major, Barrientez, had the highest GPA among those selected, but particularly impressed the committee with her extensive volunteer experience with special education students in an after-school program, as a basketball coach, as a facilitator in drug-abstinence workshops and as a fund-raiser for the South Texas Hoops program and youth activities at her church.
The award was presented by Jeffrey Noyes, UTSA associate vice president and CIO for information technology, followed by congratulations from Cynthia Rodriguez, ADP associate director; Patricia Glenn, UTSA Tomas Rivera Center for Student Success executive director; John Moder, HACU vice president and COO; Lorena Blanco, HACU interim director of development; and Charles Kennedy, Gateway director of public sector sales.