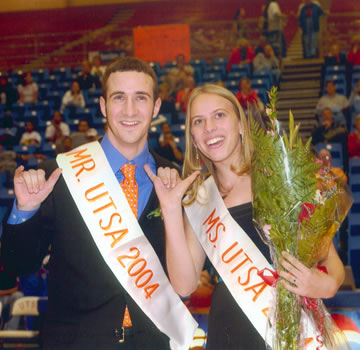 Mr. and Ms. UTSA 2004, Stephen Cheney and Becky Bromley
Apply by Jan. 28 for Mr. and Ms. UTSA contest
(Jan. 21, 2005)--Applications to apply for Mr. and Ms. UTSA 2005 are available at the Office of Alumni Programs, University Center Room 2.00.10, and the Office of Student Activities, University Center Room 1.02.08, at the 1604 Campus and the Office of Student Activities, Buena Vista Street Building Room 1.306 at the Downtown Campus, or can be downloaded at the Alumni Programs Web site.
The Mr. and Ms. UTSA contest, sponsored by the Student Alumni Association, is part of the annual Homecoming celebration. The contest honors students who embody the spirit of UTSA.
---
Today's headlines
Article tools
---
Candidates must be nominated by a student organization or two UTSA faculty or staff members. The contest also acknowledges the students' academic achievements, campus involvement and community service.
Applicants must be enrolled full-time, have completed 24 semester hours at UTSA, have a minimum UTSA GPA of 2.75 and be in good disciplinary standing. The application deadline is 5 p.m., Friday, Jan. 28.
Applicants are interviewed by a committee of alumni, faculty and staff. The committee will choose the top three male and female candidates who will compete for the title of Mr. and Ms. UTSA. The winners are chosen by a student vote during Homecoming week.
Winners of the contest will be announced Feb. 26 at the Homecoming men's basketball game. Winners will receive a 14-carat-gold, official UTSA ring.
For more information, contact the Student Alumni Association at (210) 458-6104 or Stephanie Miller, Office of Alumni Programs, at (210) 458-4133.