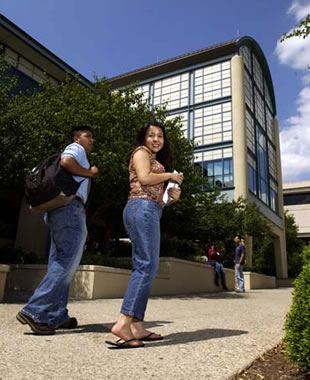 Students at UTSA 1604 Camus
Office of Student Activities celebrates new name
(Jan. 18, 2005)--Last fall, UTSA students voted overwhelmingly to change the name of the UTSA Office of Student Leadership and Cultural Programs to the "Office of Student Activities."
The new name is now in effect and is being incorporated into programming and publications produced at its offices on the 1604 and Downtown campuses. To celebrate the new name, the office will host an open house in February.
---
Today's headlines
Article tools
---
"The name change was to make the office more inviting and more reflective of what our office actually does," said Barry McKinney, associate director of student activities. "Students felt the old name was exclusive and uninviting. This puts us more in line with national trends and helps us move to the next level in our university endeavor to become a tier-one institution."
The office also has begun using a new tag line, "Complete your education... Get involved!" "We firmly believe, and research shows, that students who get involved in at least one student activity on campus are more likely to earn higher grades and graduate," McKinney said. "We want students to understand that involvement completes their education and will help them be more successful."
The Office of Student Activities hosts Campus Activities Board (CAB), Student Government Association (SGA), Volunteer Organization Involving Community, Education and Service (VOICES) and other student organizations, and at the 1604 and Downtown campuses supports cultural programming, Greek Life (fraternities and sororities), leadership development, service learning and volunteer services.
For more information, visit the Office of Student Activities Web site or call (210) 458-4160.