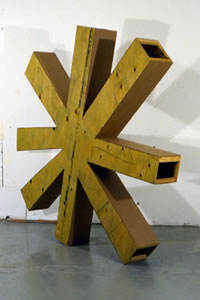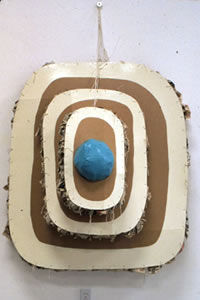 By Patrick Nickell: (top) two untitled pieces and (bottom) "Half Full" and
"Ash Can Tenement"
UTSA exhibit features sculptures made of discarded materials
(Jan. 13, 2005)--An upcoming UTSA sculpture exhibit features works made from discarded junk. Art in America magazine says the work by California artist Patrick Nickell "puts a new spin on abstract sculpture with his funky forms."
As part of a three-stop national tour, the traveling exhibit, "Built for Speed: A Sculpture Survey," is presented by the UTSA Department of Art and Art History at the Arts Building gallery on the 1604 Campus from Jan. 20 to Feb. 18. The exhibit is free and open to all.
A reception, free and open to the public, is 6-8 p.m., Thursday, Jan. 20 with a talk by the artist at 7 p.m. UTSA gallery hours are 10 a.m.-4 p.m., Monday-Friday and 2-4 p.m., Sunday.
"In order to maintain the professional reputation and quality programming of our gallery, we periodically invite artists of national stature to exhibit at UTSA," said Frances Colpitt, chair of art and art history. "Exhibits such as this give students the opportunity to gain knowledge of and appreciation for a range of directions in contemporary art."
Nickell's works are made of discarded waste materials such as tin cans, metal mesh, string, bubble wrap, plywood, corrugated cardboard, translucent plastic discs and newspaper cobbled into frameworks forming a variety of shapes and textures.
---
Today's headlines
Article tools
---
Art in America says Nickell "investigates established formal concepts of solidity, transparency, interiority and symmetry. This handsome mid-career survey of 38 sculptures made over the past 17 years illuminates the essential properties and playful spirit of the artist's handmade discs, tubes, bags, platforms, clusters and boxes."
ArtScene says Nickell "transforms these materials into constructions that refer to nothing in particular but become compelling for their obsessive attention to detail. They convey a feeling of having been a hoot to make. There is something redemptive and insistent about wresting order, even beauty from junk."
Nickell, who was born in 1960 in Van Nuys, Calif., received his B.A. from Linfield College in McMinnville, Ore. and his M.F.A. at Claremont Graduate School in Claremont, Calif. Among other venues, his works have been exhibited in California at the Luckman Gallery, California State University, Los Angeles; Los Angeles Contemporary Exhibitions; Otis/Parsons Gallery; Sue Spaid Gallery; Laguna Art Museum, Laguna Beach; and Montgomery Gallery, Pomona College, Claremont and at the Center on Contemporary Art, Seattle and the Kohler Center for the Arts, Sheboygan, Wis.
The exhibition features a 48-page, color-illustrated catalog with essays by Julie Joyce, curator of the exhibition and gallery director of the Luckman Fine Arts Complex, California State University, Los Angeles and Anne Ayres, curator, art historian and director of the Ben Maltz Gallery at Otis College of Art and Design, Los Angeles.
Patrick Nickell's "Built for Speed: A Scultpure Survey" was organized by the Luckman Fine Arts Gallery, California State University, Los Angeles, and supported by a generous grant from the Pasadena Art Alliance.
For more information, call (210) 458-4391.