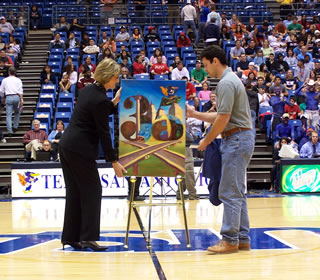 Photos: Leigh Anne Gullett
Official poster unveiled for UTSA Homecoming 2005, Feb. 21-27
(Jan. 27, 2005)--UTSA unveiled Saturday the official artwork for Homecoming 2005 before the men's basketball game against Northwestern State. Homecoming events are Feb. 21-27.
Local artist and UTSA alumnus Logan Blanco created the official artwork for Homecoming 2005 with the theme, "X Marks the Spot -- 35 and Soaring!" The anniversary year "35" is woven into a caricature of the San Antonio skyline with Rowdy the Roadrunner standing on top. Blanco felt creating the artwork was a chance to play with the colors so vividly a part of San Antonio. The artwork is available on posters and T-shirts for sale at UTSA and the Homecoming 2005 Web site.
---
Today's headlines
Article tools
---
Pictured at left, Blanco and UTSA Athletics Director Lynn Hickey unveil the painting at halfcourt. Blanco retreats to the Convocation Center lobby where he signs posters and T-shirts.
A campuswide committee of faculty, staff and students chose the theme Blanco used to create the artwork. In the painting, a Roadrunner footprint forms an "X," connoting the mark Roadrunners have planted on San Antonio as UTSA celebrates its 35th year.
UTSA's 20th homecoming promises to be the biggest ever. More than half of the 60,000 UTSA graduates still live in the San Antonio area -- and this homecoming celebrates all past and present Roadrunners. Everyone who is a Roadrunner, or a Roadrunner at heart, is invited to join in the celebration.
Visit the UTSA Homecoming 2005 Web site for a full schedule of events.