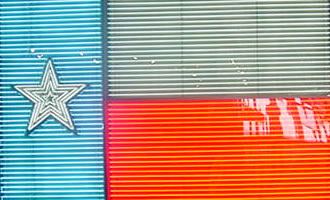 Neon flag at Institute of Texan Cultures
ITC volunteers are needed to share story of Texas
(Jan. 4, 2005)--Where do more than 200,000 people go each year to find out about American Indians, their personal family roots and the impact of science and technology on the people of Texas? The Institute of Texan Cultures in San Antonio.
As knowledgeable as the museum staff is, the majority of the work with visitors -- from tours to outreach programs -- is carried out by volunteers. Volunteers are needed to conduct tours, interpret the Back 40 living history area, present demonstrations about Texan life to schools and communities through the outreach program, and to assist personnel with administrative work in museum offices.
---
Today's headlines
Article tools
---
The deadline to apply for volunteering is Jan. 17. New-volunteer training involves one three-hour class from 9 a.m. to noon every Monday, Wednesday and Friday between Jan. 24 and Feb. 18. Volunteers must be fluent in English, but bilingual skills are helpful, especially in Spanish, German and French.
ITC volunteers reap many benefits including invitations to exhibit openings, discounts in the ITC store and free admission to exhibits, events and the Texas Folklife Festival. Volunteers receive free parking while volunteering.
For more information, contact Kristin Aguero at (210) 458-2279.