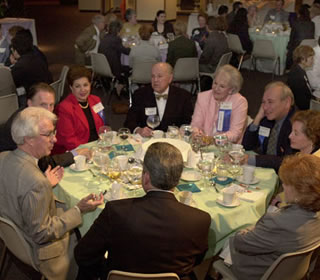 Great Conversation!
UTSA's 'Great Conversation' raises scholarship funds
(Feb. 16, 2005)--The UTSA Honors College presents "Great Conversation! La Sobremesa," an annual fund-raising event, at 6:30 p.m., Thursday, Feb. 17 at the Omni Hotel.
Supporting Honors College scholarships, the evening of food and conversation features more than 50 tables with discussion topics related to business, the arts, popular culture, health, education, current events and more. Nearly 400 guests attended the fourth annual dinner last year.
---
Today's headlines
Article tools
---
Wine and a light supper will be served at 6:30 p.m., followed by dessert, coffee and conversation at 7:30. Tickets are $75, $50 for UTSA 2000-2004 alumni. For tickets, call (210) 458-4128.
Providing scholarships for Honors College students is an important goal of the university, especially since many of its students are the first in their families to attend college and many require financial aid.
The evening is arranged much like a dinner party. Each table seating ten is assigned a conversation topic and a leader who is a distinguished faculty member, public official, local personality or other expert.
Conversation leaders this year include County Judge Nelson Wolff leading discussion on poker strategies, Charline McCombs on football from a woman's point of view, Professor Derral Cheatwood on the Alamo in film and literature, Psychologist Tina Zawacki on adolescent risk-taking and Jimmy Day on Ebay's influence on global commerce.
For more information on table topics, visit the Great Conversation! Web site.
Admission to the UTSA Honors College is based on GPA, ACT or SAT scores, an essay and recommendations. Currently, 570 UTSA students are enrolled in the Honors College. Honors students are eligible for special awards and scholarships through the Honors College.
The college offers sections of core curriculum courses as well as seminars that encourage in-depth study of themes and issues on the cutting edge of knowledge. Small classes provide unique opportunities to interact with both instructors and other honors students.