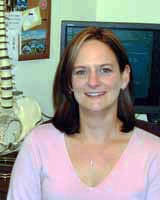 Lorena Havill
Osteoporosis researcher speaks Feb. 17 at UTSA
(Feb. 17, 2005)--Biological anthropologist Lorena Havill will speak on "Genetic Effects on the Baboon Skeleton" at 5 p.m., Feb. 17 in Business Building Room 3.01.10 at the UTSA 1604 Campus. Havill's current project continues research on the factors leading to osteoporosis and other bone pathologies.
The lecture, free and open to the public, is sponsored by the UTSA Lambda Alpha Anthropology Honor Society and the Anthropological Society as part of the UTSA Anthropology Lecture Series.
---
Today's headlines
Article tools
---
A staff scientist with the Southwest Foundation for Biomedical Research (SBFR), Havill earned doctoral and master's degree in biological anthropology at Indiana University, Bloomington, and a bachelor's degree in the same field at Beloit College, Beloit, Wis.
Her areas of expertise are skeletal genetics and aging, bone microstructure, bioarchaeology, medical anthropology, anthropology of aging and science education.
Baboons were used in the Havill's current study because of their genetic and physiological similarity to humans. Her long-term career research objectives are to improve the understanding of factors contributing to variation in the maintenance and repair of bone at the microstructural level and susceptibility to osteoporosis and other age-related pathologies in bone.
SFBR's Department of Genetics works to advance human health through basic biomedical research with animal and human populations, specifically by characterizing the genetic components of susceptibility to common diseases of public health importance.
For more information, e-mail the UTSA Anthropological Society.