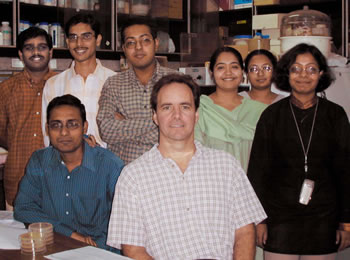 Karl Klose (center) and class in India
View KENS-TV video on cholera research (RealPlayer) »
UTSA scientist teaches research methods in India
(Feb. 28, 2005)-- Karl Klose, UTSA professor of microbiology, recently traveled to Calcutta, India, to teach a one-week course on research methods to study cholera.
---
Today's headlines
Article tools
---
The visiting professorship to the National Institute of Cholera and Enteric Diseases was sponsored by the American Society for Microbiology.
Klose, who has studied cholera for the past 12 years, taught 20 graduate students from India how to manipulate the organism and study the disease process.
He hopes to work with the Indian scientists to develop a vaccine to treat the disease that causes an average fluid loss of 40 liters and leads to severe dehydration.